by Andy Plattner
When a new coach wins games, there is always speculation as to how much credit he or she should be given and how much credit should go to the coach who came before. In the case of the 2002 Claiming Crown, the "new" coach, Philadelphia Park, certainly owed a considerable debt to its predecessor, Minnesota's Canterbury Park. Located in Shakopee, a few miles southwest of Minneapolis, Canterbury hosted the Claiming Crown from 1999-2001.
Through the efforts of Canterbury officials, the National Horsemen's Benevolent and Protective Association (NHBPA), and the Thoroughbred Owners and Breeders Association (TOBA), the Claiming Crown became a popular, though altogether different, type of offering on the late summer national stakes calendar.
In a couple of ways, Canterbury had seemed like a risky choice for these races. Minnesota is not one of the larger hotbeds of Thoroughbred sport in this country. A larger problem lay with the geography: Minnesota is a long van ride away from anywhere, especially for horses shipping from either coast.
However, the purse money offered for the inaugural set of six Claiming Crown races, a total of $550,000, figured to make any lengthy voyage a potentially worthwhile one. And despite a lower-than-expected number of nominations to the 1999 Claiming Crown I races, the event proved itself to be a winner. Canterbury drew a season-high crowd of 11,380, and horses did indeed arrive from both sides of the country. The following year, a Canterbury track record was established as 13,922 fans pushed through the turnstiles.
A ferocious heat wave helped to depress the attendance at the Claiming Crown at Canterbury in 2001, though an all-time high number of simulcasting outlets offering the Claiming Crown races throughout North America resulted in pari-mutuel handle exceeding $2.5 million. This marked a dramatic increase from the $1.2 million realized through simulcasting the year before.
Though the Claiming Crown events were created to bring attention to the blue-collar horses that grind out their livings far from the headlines, the acceptance of these races by the gambling public is critical. The greatest appeal to any gambler is a race with a full field because these are the races that often offer the greatest betting value. The Claiming Crown races, tabbed as the "Breeders' Cup for claiming owners," certainly were successful in that capacity while at Caterbury, with the 19 events combined over a three year span (there were seven Claiming Crown races in 2000) drawing approximately 200 starters, for an average of more than 10 horses per race.
A Moving Success
The Breeders' Cup World Thoroughbred Championship has, in part, remained successful since 1984 because it has allowed racetracks from east to west (Belmont and Aqueduct in New York and Santa Anita and Hollywood Park in California) and north to south (Woodbine Race Course in Toronto, Canada, and Gulfstream Park in Florida) to host its star-studded day of racing. A Breeders' Cup World Thoroughbred Championship potentially provides a tremendous boost in attention to any racing facility, and most major racetracks will bend over backward to get these races.
The Claiming Crown, of course, offers a different type of cache to its host facility. These races are designed for lunch-pail level horses, and it might always make the most sense to have them contested at lesser-heralded racetracks. The ability of these races to remain nationally prominent will always be correlative to how enthusiastic horsemen are about participating in them.
With the Claiming Crown scheduled to leave Canterbury in 2002 (it returns there next year and every odd year afterward until 2008), Philadelphia Park appeared to be a very intelligent choice indeed. It is just a morning's van ride away from the ongoing meets at Delaware Park, Laurel, Saratoga, Penn National, Monmouth Park, Charles Town and Mountaineer Park.
Embracing The Crown
Philadelphia Park officials decided to offer the races on the Saturday of the Labor Day weekend, which is the high water mark of the season there. On Labor Day, Philadelphia Park hosted the $500,000 Pennsylvania Derby, the centerpiece of its racing year, as well as a handful of other stakes events.
Philadelphia Park had actively embraced the Claiming Crown concept right from the start, even offering Claiming Crown preview races in 2000 and 2001. Philly Park-based horses benefited enormously from those preps, which mirrored the Claiming Crown races in both distances and conditions. They took five of the 13 Claiming Crown races in those two years as well as five additional in-the-money finishes. A major factor in the success of Philadelphia Park-based horses was Philly Park-based trainer Scott Lake. Perhaps the most famous claiming trainer in the America, Lake led the nation in total victories in both 2000 and 2001.
During the first three editions of Claiming Crown races, Lake was the overall leader with five victories, including three scores in 2000. Though he cautioned officials and fans alike that his 2002 contingency might not be as strong as his Claiming Crown entries in other years, Lake wound up entering four horses for this year's Claiming Crown events.
The overall number of entries was probably something of a surprise and a disappointment to both Claming Crown and Philadelphia Park officials. With a record 300 nominations to this year's races, fields figured to reach the maximum of 14 starters in several Claiming Crown events. When the Breeders' Cup-style pre-entries were taken more than a week prior to this year's Claiming Crown IV, 71 horses were named for the six races. However, when the final entries were drawn and tabulated, the total number of entries whittled down to 53 horses, an all-time low for the event.
Perhaps, in this case, what might have been viewed a strength turned out to be a liability. Because of the number of tracks operating in the Mid-Atlantic region – four of which (Philadelphia, Penn National, Charles Town and Mountaineer) run year-round – trainers here can be more selective about when and where they race their horses. Lake, whose high winning percentage can be directly linked to his ability to run his horses in the easiest races available, is certainly a testament to that. Though the races lacked full fields this year, the quality for the six Claiming Crown races was solid. With each race appearing to be a difficult one to win, many trainers apparently chose to wait for softer spots. Ironically, this is exactly what claiming trainers are supposed to do.
The horsemen who chose to race for the plentiful purses at Philadelphia Park on August 31 arrived from California, Delaware, Illinois, Kentucky, Maryland, New Jersey, New York and Texas. The horses themselves had incredibly diversified roots. Ten different state breeding programs were represented with Claiming Crown starters. Other starters had been bred in Ontario, Great Britain, Ireland and New Zealand.
Each of the six Claiming Crown IV events featured some rapidly improving animals. The Iron Horse included Lake-trained Ruskin. A powerfully constructed chestnut that sat out much of last year with physical problems, Ruskin had wiped out a couple of starter fields this summer at Philadelphia prior to August 31.
Lifetime at Philly Park, Ruskin had been something like Michigan playing in the Big House, winning eight of 11 starts there. Dry Ice, a 4-year-old colt who figured to be his main competition, had won two straight, including a preview race three weeks earlier at Philadelphia.
The six-furlong, $50,000 Express Stakes drew a pair of black-type performers in Wise Sweep and Talknow. The latter, an Arkansas-bred, had won three straight races during the summer, one a $60,000 overnight handicap at Arlington Park. Morning line favoritism, however, went to Danny E, a 4-year-old Maryland product who had won three straight, including a pair of daylight tallies locally.
Playmera and Final Dispersal, the big names in the $75,000 Glass Slipper for fillies and mares at 6 1/2 furlongs, were collectively 13 for 15 entering the race. The former had already won this year at Turf Paradise, Hawthorne and Mountaineer Park. At Philadelphia Park, Final Dispersal had won five straight non-claiming events for Lake.
On paper, the $100,000 Rapid Transit Stakes at 6 1/2 furlongs seemed to be the most wide-open race of the afternoon. Morning line choice Brown Eyed Major had won four straight while racing at Ellis Park and Prairie Meadows. Lightly raced Only Pioneering had been victorious in three of his five lifetime starts, including two starter races at Churchill Downs. Soes Bandit was stakes-placed at Delaware and had raced against champion Macho Uno in the Massachusetts Handicap (G2).
The most diverse field was assembled for the $125,000 Emerald Stakes at 1 1/16 miles on the grass. Horses shipped in for the race from Monmouth, Arlington, Ellis, Penn National, Saratoga and Del Mar.
Nowrass, the morning line choice for the Emerald at 2-1, had raced in Dubai last year but had recently bloomed while racing on the turf in New York for owner/trainer Kiaran McLaughlin. Sprinting ace Splendeed had won a stakes at Pimlico earlier this year and placed in another at Delaware.
The biggest purse, the $150,000 Jewel at 1 1/8 miles, attracted the best horses: Prince Iroquois, a generous 10-1 on the morning line, had recently taken the Ark-La-Tex Handicap at Louisiana Downs and earlier this season finished a solid second to much-heralded Congaree in the Lone Star Park Handicap (G3); Truly a Judge was an honest allowance-level horse on the difficult Southern California circuit; stakes-placed Twilight Prince and Gotthard figured to fight one another for the early lead; Quiet Mike, Threcoinsinfountin and Mendham were quality closers who figured to benefit from a lively early pace.
Both literally and figuratively, the participants for Claiming Crown IV had traveled a long way. The races themselves would decide which had finally arrived.
The Iron Horse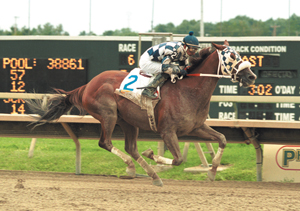 "Ruskin is my best chance at winning a race today," trainer Scott Lake predicted prior to the $50,000 Iron Horse, a 1 1/16 miles race for horses that had started for a claiming price of $5,000 or less in the past 12 months and the first of the six Claiming Crown events on the afternoon. "He's good right now," the trainer said.
Lake got it right, too. Blue Bayou Stable's Ruskin was good – certainly good enough for his six rivals. The 9-year-old gelded son of Lac Ouimet darted past leaders Regal Tour and Entrepreneurship just inside the top of the stretch and gradually pulled away to a 2 1/2-length score. Regal Tour and Entrepreneurship, lapped on one another the entire trip, were noses apart in second and third, respectively. Final time for 1 1/16 miles was 1:45 2/5.
Regal Tour's second money was hard earned. He traveled the furthest distance, shipping from Ellis Park in Kentucky after he had spent the first half of the summer in Texas racing for owners John Milton Goss and J.W. Harrison. Like Ruskin, he is a Florida-bred who could have been claimed for a song earlier this year.
Ruskin made the Iron Horse his sixth tally from 13 starts in 2002. "He was injured last year," Lake said of the horse's 0-for-2 campaign in 2001.
Iron Horse was a fitting title for Ruskin as the race marked his 62nd career start. The victory gave him lifetime earnings of $387,788. Earlier this year, Lake had raced Ruskin for a tag of only $4,000 at Philadelphia Park, but there were no takers.
Winning rider, Jose Flores, said, "Yeah, (Ruskin) did drift in a little late, but he won the race like I thought he would."
"I was worried a little early because he was down on the inside and behind horses," Lake commented. "But once Flores had him out and in the clear, I wasn't worried at all."
"I love [the Claiming Crown]," Lake asserted. "I always thought it was a great idea."
The Express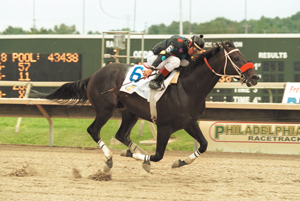 The $50,000 Claiming Crown Express drew a field of eight, though as far as the Philly Park players were concerned, the race was going to be for place money only. Talknow, coming off a sixth-place finish in the one-mile Cigar Stakes at Arlington Park, was sent away at odds of 9-10 in the six furlong race for horses that had raced for a claiming price of $7,500 or less in the past year.
Gamblers were willing to forgive that Cigar finish because Talknow had won six of nine previous starts this season, either allowance or starter allowance races, by daylight. Trainer Tom Tomillo claimed the 5-year-old son of Pick Up the Phone last fall at Arlington from Jerry Hollendorfer for just $5,000.
Talknow, owned by Tomillio and Emilio Geloso, dominated the Express. Ridden by Chicago-based Elvis Trujillo, the horse rated kindly just off the fast first quarter-mile of :22 1/5 set by Divisional Champ. Midway around the far turn, Elvis cranked up the volume on Talknow and they quickly assumed command. Up by two turning for home, they cruised to the wire 3 1/4 lengths ahead of late-closing Danny E. Wise Sweep, coming off a sixth-place finish in the $100,000 Charles Town Dash, broke awkwardly and then put in a mild late rally to gain third. Final time for the race was a fast 1:09 1/5.
"I wanted to come here," Tomillio said after the race. "This horse runs his race every time. He is going to run his race every time. That last race – that might have been too long. Six and a half, seven furlongs, that's really what he wants to do. When he's in the right race, he's going to win."
The Express became Talknow's 13th win from 28 career starts and placed his lifetime earnings just over a quarter of a million dollars.
Danny E, a Maryland-bred, had won a preview race at Philadelphia Park easily three weeks earlier for trainer Harry Thompson. Earlier this year, he was racing for $7,500 at Penn National. Since joining Thompson's barn, he had won five of eight races prior to the Express while campaigning in Pennsylvania and West Virginia.
Wise Sweep also deserved mention. His lousy break certainly cost him a closer finish in the Express, though it is unlikely he would have threatened the winner. Wise Sweep is a 6-year-old Florida-bred gelding that had won three races for trainer Dale Capuano since being claimed for $12,500 in January at Laurel.
The Glass Slipper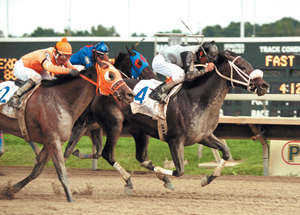 If you are a fan of the HBO series "The Sopranos," the winner of the Glass Slipper might have been the hunch play of the day. Contested at 6 1/2 furlongs and carrying a purse of $75,000 for fillies and mares that had raced for a claiming price of $12,500 in the past year, the Claiming Crown Glass Slipper was won by Bada Bing Stable's Won Moro (Bada Bing is the name of the Soprano bunch's neighborhood tavern). The 5-year-old mare collared pacesetter Final Dispersal turning for home and then held off a frantic late rally by 30-1 shot Dandy Dulce to win by a half-length. Playmera, part of a Pat Cuccurullo-trained entry, was a game third, another half-length back. Final time for the race was 1:17.
Won Moro, a 4-1 shot, was the first non-winning favorite in the Claiming Crown races. However, the public choice in this race, Final Dispersal, was not without merit. The 4-year-old filly was a Lake special, having won six of seven races since the first of the year, with the margin of her victories a combined total of 38 3/4 lengths. In each of these races, she had made a clear lead early and won as her rider pleased. However, she did not have things her way in the Glass Slipper.
Under apprentice Tara Hemmings, Final Dispersal managed a narrow advantage for the first eighth of a mile. Then Tizagal, a fast filly who had broken slowly, came speeding up alongside Final Dispersal. When Tizagal backed out again, California invader Zodiaque and jockey Jose Valdivia joined Final Dispersal turning for home. The Lake filly, disinterested in all this company, decided to hit the exit. Won Moro, meanwhile, had gotten a well-judged off-the-pace ride by Gerard Melancon. They stormed to the lead and appeared home free three-sixteenths of a mile from the finish. Dandy Dulce, another 4-year-old, came winging down the center of the track though she seemed to hang in the final yards.
"The track is a little deep," said Melancon. "It's playing very fair, favoring neither the speed nor the stretch-runners. I picked up this mount just yesterday. I lost one (Fun 'n Gun was scratched from the Emerald), but it was okay because we picked up this one."
Won Moro had previously toiled in the condition allowance ranks and $25,000-$35,000 claiming races this year. Robert Klesaris, who sent her to Philadelphia from his Belmont Park base, had lost this horse and re-claimed her on several occasions in the past two seasons. In April, Klesaris plunked down $35,000 for Won Moro at Aqueduct and kept her from the claiming ranks in three subsequent starts. In her start prior to the Glass Slipper, Won Moro had experienced traffic trouble while placing fifth in an optional claiming race at Monmouth Park.
The Rapid Transit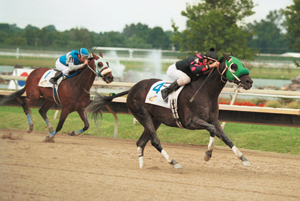 Trainer Jose Gallegos entered 6-year-old Risen Warrior in the $100,000 Rapid Transit at 6 1/2 furlongs for horses that had raced for a claiming price of $16,000 or less in the last year, but it was not until the morning of the race that he was certain the horse would run. Off since July 2, Risen Warrior had turned in a fast workout the Monday before the race, five furlongs in :58 4/5, though Gallegos wondered if it was too fast.
"I was watching him pretty close," the trainer said. "Seeing how he bounced back. Race morning, he seemed fine, so we ran him."
In a powerhouse performance, Risen Warrior triumphed by 3 1/4 lengths over Yavapai, whose stablemate, Largeandincharge, wound up third. Favored Brown Eyed Major was a non-threat, winding up sixth of the nine runners. Only Pioneering, another well-bet runner, stumbled badly at the start and lost all chance.
Actually, one horse's misfortune, was good luck for another. Only Pioneering, like Risen Warrior, is a pacesetting type. The former's failure to get away cleanly gave Risen Warrior one less fast horse to deal with early.
"I rode my race," said winning rider, Stewart Elliott. "But it was one less tough horse to deal with." Elliott, who won three other non-Claiming Crown races on the afternoon, said, "This horse rated well today."
The local horses pretty much owned this race from flagfall to finish. Go Rail Go, as expected, tore for the early lead under Nick Santagata and was closely hounded by Yavapai. They pounded out fractions of :21 4/5 and :44 2/5 before Elliott made a three wide move on the turn, which actually was a winning move for a good many riders on the afternoon. Down the lane, he kept the horse out in the middle of the track. The final clocking of 1:16 flat was impressive, less than two full seconds off the track record. How he might have fared against Talknow is anyone's guess, though it is certain both horses could have run faster had they been pushed harder in the stretch.
Risen Warrior is a Kentucky-bred and is owned by Robert J. Amendola. The win propelled his career earnings to $428,240.
The Emerald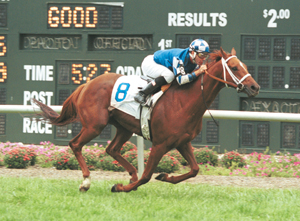 The lone Claiming Crown turf event, the aptly named $125,000 Emerald Stakes, was won with authority by Nowrass. Ridden smartly by Jose Valdivia, who scored his biggest career win last fall in the Breeders' Cup Mile at Belmont, Nowrass benefited from an expected speed duel up front. Eleven-year-old Sir Echo darted for the front and was joined almost immediately by local hopeful Stephan's Prize. They traveled over the good turf in fractions of :23 and :47 4/5. After that half, Stephan's Prize stopped suddenly, leaving Sir Echo with a sudden four-length lead.
Sir Echo's lead did not last long. Moving past a fading Splendeed, Nowrass went after the leader on the turn in much the same style as many of the main track winners. The race was pretty much a done deal right there.
Grade One, another local who was coming off a good second in a preview race, put in a run to get within two lengths of Nowrass nearing the eighth pole. However, Valdivia brought out his whip, gave Nowrass a slap, and Grade One gained only in the final yards when the winner was eased up. The margin of victory was 1-1/2 lengths, and it marked Nowrass's third win since coming to America from the desert of Dubai.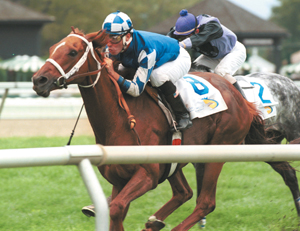 "It was an easy as it looked," Valdivia said. "The trainer said to ride him with confidence, and I really did."
Nowrass is a 6-year-old gelded son of Bering bred in England by Gainsborough Stud Management. In April of 2000, he won a small handicap race at Dubai on the grass. His Emerald score gave him three wins from four lifetime starts on the lawn. By Claiming Crown standards, Nowrass is lightly raced as the Emerald marked just the 11th start of his career.
Second place finisher Grade One is a 6-year-old gelding that at one time was trained by Elliot Walden and considered to be possible Kentucky Derby material. His career had been on a downward spiral until trainer Richard Vega gave the horse a try on the Philadelphia Park turf this summer. Grade One responded with a win and a second in three starts. He did a little weaving near the eighth pole in the Emerald and seems eligible to improve more in the future if he can keep a straight path. And if he stays away from Nowrass.
The Jewel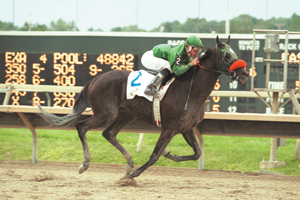 Trainer David Bernstein was one of 12 horsemen who put claims in on Truly A Judge in a Santa Anita race last year. He got out-shook once, but when the horse was offered again for $20,000, Bernstein put in another claim for owners Ailshie Gaylord and Alan Aidekman. There were three other trainers who wanted the horse on that occasion, but Bernstein was the lucky winner.
Since taking Truly A Judge back to his barn, both Bernstein and Truly A Judge have been happy guys. In the nine races for his new trainer prior to the Claiming Crown Jewel, the horse had three wins, two seconds, three thirds and a fourth. He was kept in conditioned allowance and optional claiming company, and though the Jewel was his first stakes start, his effort in the race suggested he might find future stakes engagements to his liking.
Truly A Judge romped home by 5 1/4 lengths in the $150,000 Jewel, a race relegated to horses that had started for $25,000 or less in the past year. Ridden by Jose Valdivia, the 4-year-old son of Judge T C (himself a reformed claiming story) covered the nine furlongs in 1:50 1/5.
Quiet Mike, a Delaware Park-based 5-year-old, finished well and earned a nice second prize check of $25,000. Prince Iroquois was a distant third.
"I told Jose to try and get three paths out," the winning trainer said. "That seemed to be the best part of the track. It was the owners' idea to come here. They were aware of this race from the moment they claimed him."
"Today was a good day," Valdivia after his second Claiming Crown victory of the afternoon. "I was lucky to get these horses to ride."
Mixed Results
Philadelphia Park usually does not release attendance figures, though the day's crowd, which perhaps reached 6,000, was twice the size the track normally would draw on a Saturday afternoon. Local handle reached $327,919 on the Claiming Crown IV races; off-track simulcast wagering reached $2,076,104, which was down from last year's figure attained at Canterbury.
Chalk players had to be thrilled with the day's proceedings as four of six Claiming Crown favorites were victorious. Won Moro's $10 win payout, in fact, was the highest on the day.
Claiming Crown IV, like the editions before it, should provide further ideas on how the races might best be conducted in the future. Philadelphia Park's initial experience as host of the event suggested that geography is not everything and that a shorter van ride does not necessarily equal a full entry box. However, the day did reiterate one the lessons learned from the Claiming Crown's previous years at Canterbury Park: a sharp horse can take a trainer anywhere.
© 2002 The Horsemen's Journal