by Andy Plattner
Thoroughbred racing's Claiming Crown offered its sixth edition on July 17 at Canterbury Park in Shakopee, Minnesota, and this year, more than a few signs suggested that the blue collar series was going to be around for years to come. The Claiming Crown is a partnership between the National HBPA, Canterbury Park, and the Thoroughbred Owners and Breeders Association (TOBA).
One new jewel for the Crown arrived with that morning's edition of the Daily Racing Form, where famed cartoonist Pierre "Peb" Bellocq offered a front-page portrait of the Claiming Crown's best-known players. For the races themselves, which were restricted to horses which had started for a claiming price in the past year, Canterbury drew a festival-like crowd of 12,788 patrons. Through a worldwide simulcast signal, the overall card drew a record handle of $4.1 million, about $3 million of which was wagered on the six Claiming Crown events.
The fields were compromised of horse which had traveled from the various corners of the U.S.: California, Texas, and New York. For their troubles, travelers received a near perfect afternoon weatherwise in which to test the fortunes of their blue collar equine heroes.
Local talent from Canterbury and a pair of runners who had been racing regularly at Mountaineer Park in West Virginia accounted for the day's biggest surprises.
The Continental Diamond Jewel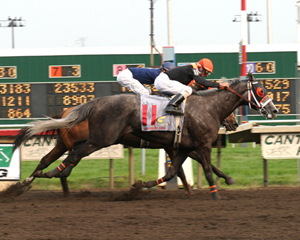 Intelligent Male, a two-time winner this spring at Mountaineer Race Track, took home the big prize, the $150,000 Continental Diamond Claiming Crown Jewel, by a neck over the Hollywood Park-based runner Musique Toujours.
The tight finish concluded what was a heavyweight stretch battle. Turning for home in the nine-furlong event, Rize, whose rollercoaster-career featured a win in the Iselin Handicap (G2) of 2000, had a short lead, with Musique Toujours to his left and Intelligent Male to his right. Under Tyler Baze, Musique Toujours bulled through on the inside, while on the outside came Intelligent Male, who, energetically ridden by Eddie Martin, was gaining fastest of all. Once they were past Rize, those two horses came together suddenly, causing Rize's rider, Rafael Bejarano, to angle his horse out two paths.
Musique Toujours held a narrow lead inside the eighth pole, but he could not make it last. Intelligent Male powered his way to the front just a couple of strides from the wire.
After the horses had galloped out, Baze let the outrider know he would be claiming foul against the winner. Bejarano followed suit. Martin jogged his horse back to the finish, then gave a confident shake of his head in the direction of Intelligent Male's trainer, Wayne Catalano. The stewards did give the objections due consideration, lingering over their decision for about ten minutes. The verdict to allow the original order of finish to stand seemed to be a correct one. The final clocking of 1:49 3/5 was more than respectable over a track that produced to non-blazing times all day.
"That's right!" Catalano said, pumping his right fist in the air when the race was made official.
After accepting congratulations from Canterbury officials and then getting a bear hug and kiss on the cheek from Martin, Catalano said, "I had to train this horse up to this race. He hadn't been out since early May … I kept entering him and things kept not working out. He won easily twice at Mountaineer, but we had him in good spots there."
"Wayne did an incredible job bringing the horse here on workouts," said Mike Cornett of Turf Express Inc., the outfit that owns Intelligent Male. "When we bought him earlier this year, I sort of had this race in mind."
Prior to being purchased by Cornett, Intelligent Male had struggled on the New York circuit, having gone winless in 2003.
"We haven't done anything remarkable with him," said Catalano. "He is a terrific horse in that he does all that we ask."
"I try not to get emotional when we win," said Cornett. "But this is awesome. Winning is awesome. To tell you the truth, after this, we'll probably run him try to run him back in a non-winners of three other than at Arlington."
Here is a look at how the other Claiming Crown events were decided:
The Dodge Emerald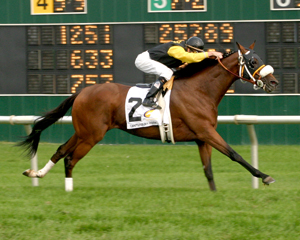 Stage Player turned out to be the lone winning Claiming Crown favorite on the afternoon when he rather decisively whipped a large field of 13 rivals in the $125,000 Dodge Emerald at a mile and a sixteenth over the Canterbury turf. A California-bred gelded son of Stage Colony, Stage Player entered the affair having won three of his past four starts on the difficult Southern California circuit.
Tyler Baze had the call on the favorite, and they never seemed in danger of losing. Baze waited with Stage Player as the field swept for the clubhouse turn, allowing his horse to settle into stride, which as things turned out, was a plenty fast one. Stage Player kept the hedge and turned up the backstretch with a short lead. The fractions were honest – :23 2/5, :47 and 1:11 2/5 – but while the others were working to keep up, Stage Player was in a comfortable lope. He gradually widened his lead around the far turn and was not threatened seriously by the solid late charge of the locally-based long shot Bristolville down the stretch.
Stage Player is a charge of the highly successful trainer Jeff Mullins, who remained at his base in California on raceday. Assistant trainer John Martin said, "The [Claiming Crown] is something we definitely want to be more involved in. Jeff chose Stage Player as our horse for this year, and things worked out great. Tyler rode the race he should've. Hopefully, we'll bring back more horses for next year."
Last November, Mullins claimed Stage Player for $25,000 at Hollywood Park. Relegated to sprints until early May of this year, the horse had won four of eight starts for Mullins. Stage Player turned heads at Hollywood on May 30 when trying the one-mile distance on the grass. After setting a slowish opening quarter mile in :24 3/5, he blistered the next six furlongs in 1:09 3/5, completing the distance in 1:34 1/5.
His final time for the Emerald was 1:42 1/5, two seconds off the Canterbury track record for the distance.
The Daily Racing Form Rapid Transit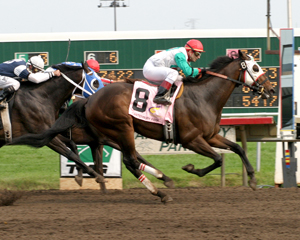 Trainer John McCaslin is based at Philadelphia Park, which currently serves as the residence of the sport's most famous equine athlete, Smarty Jones. "I have coffee every morning in the track kitchen with [Smarty's trainer] Johnny Servis," McCaslin said. "The Triple Crown didn't change him one bit."
After a spring of receiving well-deserved congratulations from Philly Park horsemen, Servis probably would deal one out to McCaslin at their next meeting; it was the McCaslin-trained Heroic Sight that proved best in the $100,000 Daily Racing Form Rapid Transit Stakes going six and a half furlongs. Ridden intelligently by Todd Glasser, Heroic Sight rated well off the brisk early pace set by Quote Me Later, then charged past that rival and Satan's Code to win by a half-length in 1:15 3/5.
Satan's Code was one of two runners saddled in the race by all-time Claiming Crown victory leader Scott Lake, and turning for home, the horse appeared to have a great chance at winning the Rapid Transit. He cruised up to the neck of Quote Me Later, then took a short lead. Satan's Code's rider, Derek Bell, might have been a second too late to react when Rafael Bejarano got Quote Me Later to rally again nearing the eighth pole. Both horses were fighting hard when Heroic Sight forged by them in the final yards. The defeat was doubly tough for Lake, who had lost the Rapid Transit winner in the claiming box earlier this year.
"These races are just great," McCaslin said. "I like Philly, but I love this place, too."
The WinTicket Glass Slipper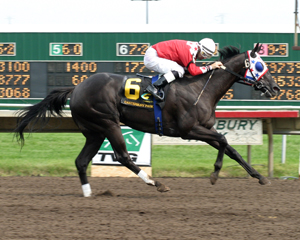 The Claiming Crown event for fillies and mares, the $75,000 WinTicket Glass Slipper, produced the easiest winner of the afternoon. Banished Lover, owned and trained by John C. Zimmerman, broke quickly, grabbed a two-length lead, and never looked back, touring the six-and-a-half-furlong distance in 1:17 1/5. She wound up finishing 5 1/4 lengths to the good of 19-to-10 favorite Moving Fever. Flaming Night shipped in from tiny Lincoln Park in Nebraska and put in a game rally to take third at odds of 61-to-1.
Zimmerman claimed Banished Lover for a paltry $5,000 last fall at Delaware Park. She won one of three starts before earning a short vacation from her trainer. Early on in 2004, she became a terror at Mountaineer, winning four starts by a combined total of 35 lengths. Banished Lover tired when trying a middle distance stakes race at Delaware, then she came back to place a good second in a handicap stakes event at Mountaineer. All of those races, however, had been contested around two turns, and any good handicapper will tell you there is a considerable difference between two-turn speed and sprint speed. In most cases, anyway.
"She is the best filly I've ever ridden in a race," said victorious jockey Tom Clifton. "I don't know that I was surprised that she made the lead so easy today. But it was something I had wondered about.
"I think that track at Delaware is tiring," he said. "Mountaineer plays pretty fair. So does it here."
Like the Rapid Transit winner, Banished Lover is a Kentucky-bred. Since being claimed by Zimmerman, the 6-year-old mare has earned approximately $150,000.
"Like always, we were very proud of the way she ran today," said the owner-trainer.
The Bayer Legend Iron Horse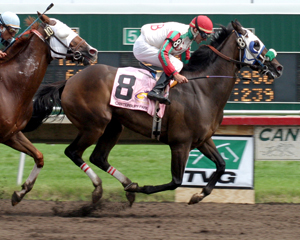 The $50,000 Bayer Legend Claiming Crown Iron Horse, the first of the six Claming Crown races on the day, might have been the one local fans will remember the longest. Superman Can, a Canterbury resident, held off frantic rallies from Rough Draft and Gram's Folly to win the one mile and a sixteenth tilt by a neck in 1:44 1/5. Ridden by Scott Stevens, the 4-year-old California-bred left the post at odds of 16-to-1 despite an impressive victory at Canterbury three weeks earlier.
"He got to playing around in that race," Stevens said. "In the stretch, he jumped the tire tracks left by the starting gate. He does that, loafs on the lead. I was surprised when he got away with the lead so easy today. I knew he'd answer when they came at him, too."
In the Iron Horse, Superman Can did seem to be traveling easily with the lead down the backstretch despite the fact he had put up an opening half mile in :46 3/5.
Bejarano, aboard Rough Draft, appeared to be biding his time, and when they collared Superman Can and Stevens inside the homestretch, Rough Draft's real threat seemed to be in the form of Mid-Atlantic shipper Gram's Folly, who had quickly loomed to challenge on the onside. Instead, it was the local shooter from the rail who was able to find the most late. According to Stevens, "The horse said, 'I'm the man.'"
Owner Dana Isaacson added, "George Bango told me last night that we were going to kick their … you know."
"It's great to win like this," Bango said. "One for the home team."
The Pepsi Express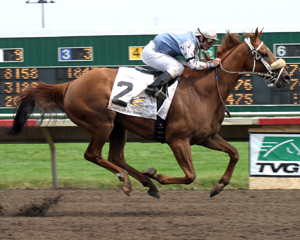 Minnesota HBPA President Tom Metzen Sr., a longtime enthusiast of the Claiming Crown series, was rewarded one way before the races even began this year. His likeness, along with those of Baze, Bejarano, Martin, Lake and Canterbury Park President Randy Sampson, was featured in the Racing Form's "Peb" cartoon. Then, Metzen got an even greater thrill when Chisholm, a 7-year-old gelding he owns with his wife, son and daughter, put together an electrifying late charge to win the $50,000 Pepsi Claiming Crown Express by a couple of lengths over Texas shipper Setthehook.
"Our trainer [David Van Winkle] said the horse was doing really well coming into this race," Metzen said. "But these are tough races to win … To be honest, I don't really know what to say."
A moment later, however, he seemed to. "I think these races are fantastic for Canterbury Park and our horsemen. You look at how the handle goes up in the days leading to the race and then you open the [Daily Racing] Form on Saturday morning, and there is Canterbury on the front page "We claimed Chisholm, but I don't know if we had this race in mind when we did. He struggled last year [0-for-9]. This year, he just keeps getting better."
Chisholm, another Cal-bred, had in fact shaken off the blahs from 2003 and came into this year's Claiming Crown having won five of nine starts, including three straight scores at Canterbury. His wait-and-strike style certainly served the horse beautifully in the six furlong Express, as Devil's Con and Jimmy Jones zapped an opening half mile in :44 2/5. The leaders were already punchy turning for home, and Joel Campbell steered Chisholm down the center of the stretch, finishing clear of the steadily closing Setthehook.
Chisholm took 1:10 flat to complete the distance, the exact time he had recorded in his two most recent starts at Canterbury.
Pride of Minnesota
Minnesota HBPA President Tom Metzen Sr. has been involved with the Claiming Crown series almost from the start. "Originally, the races were supposed to be run at Birmingham Race Course," he explained. "The track closed and there was a lot of money left in a horsemen's account. The Claiming Crown races would have been a way to see the money was distributed. Actually, what happened was that the money in that account wound up being part of a lawsuit.
"We recognized the Claiming Crown as a good idea nonetheless," Metzen said. "After it became clear the races were not going to be run at Birmingham, we began working towards creating something like that here at Canterbury."
Metzen explained that, by far, the most difficult piece of this puzzle lay with the purse money – who would put up the $600,000 for the original Claiming Crown events?
"Eventually, the HBPA and the track split the costs," he said. "Canterbury put up $300,000, and the local HBPA put up the rest. Luckily for us, the races caught on with horsemen right away. We have never had a problem attracting horses.
"If you asked me, it's because Canterbury is a Midwestern location, accessible to both coasts. It was great that early on we got guys like Scott Lake to participate. This year, he brought his horses up here a week early. He told me that for him, it's like a working vacation. To him, it's the greatest thing since night baseball.
"One of the things the Claiming Crown has done for Canterbury is to show people that this isn't the frozen Northland. We have beautiful weather here in the summer, and this is a good racetrack. The airport is close by. Jeff Mullins brought a horse in here this year. He shipped in last year, too. For the 2004 races, we had a total of three plane loads that brought in 30 horses."
Metzen continued, "What is even better news is that the track is now breaking even on the Claiming Crown, and we just about are, too. Meanwhile, we have developed a great event in my eyes, something that is totally unique.
"You know, 90 percent of all racehorses in America are claiming horses. I own a number of claiming horses myself. So much of this game is played at the blue collar level. It would be a shame not to celebrate that."
Short Shots:
On the entire afternoon, the Iron Horse finish was probably cheered the loudest by the Canterbury faithful. It also returned the secound largest win payoff, $35.40, Behind that of Intelligent Male's $39.80 in the Jewel.
Overall, a total of 60 horses started in the half-dozen races, the runners having shipped in from a total of 12 different states. Perhaps only the Breeders' Cup Championships can lay claim to such a diverse drawing power.
Both Lake and Bejarano, the nation's leading trainer and rider, respectively, according to wins, were shut out on the Claiming Crown races of 2004. Each went 0-for-6.
At day's end, it seemed fair to say that Claiming Crown VI had rewarded both fans and horsemen. It also was not a stretch to imagine both might return in even bigger numbers next year.
© 2004 The Horsemen's Journal