by Andy Plattner
After winning the 1 1/8-mile $150,000 Claiming Crown Jewel Stakes aboard Desert Boom on July 16 at Canterbury Park, jockey Roberto Gonzalez redirected the post-race praise about his winning ride. "I had the horse," he said. "That's all you need." Other victorious riders on the afternoon of the seventh Claiming Crown – the sixth held at Canterbury Park in Shakopee, Minnesota – echoed the sentiment.
Derek Bell, who piloted Mr. Mabee to a daylight victory in the $125,000 Dodge Claiming Crown Emerald, said, "I just steered him around. The horse did the work."
"I was along for the ride," commented Bobby Walker, Jr. after guiding Onlynurimagination to a record-setting performance in the $50,000 Pepsi Claiming Crown Express Stakes.
"She did everything," explained Mike Zeigler, the winning pilot of Inhonorofjohnnie, heroine of the $100,000 Claiming Crown Tiara. You get the idea.
The Claiming Crown races spotlight the claiming horse – the brand of runner that consistently fills race cards on a daily basis from one end of the country to another. As usual, both coasts were represented with starters at this year's Claiming Crown. And, as per norm, it seemed that every region was well represented in the winner's circle. My Extolled Honor, the winner of the popular $50,000 Miller Brewing Co. Claiming Crown Iron Horse Stakes at a mile and a sixteenth, shipped to Minnesota from trainer Steve Asmussen's barn at Churchill Downs in Louisville, Kentucky; Mr. Mabee arrived from Fairmont Park in Collinsville, Illinois; the well-traveled Onlynurimagination had been racing regularly at Mountaineer Park in West Virginia; Procreate was stabled at Penn National in Harrisburg, Pennsylvania, but raced at New Jersey's Monmouth Park; and Desert Boom was based in northern California. The home crowd was represented with two Canterbury Park-based Claiming Crown winners, Ells Editor and Inhonorofjohnnie.
This year, the seven Claiming Crown races – each restricted to horses which had previously started in at least one claiming race of a specified level in the previous 12 months – offered a total of $650,000 in purse money. The $50,000 Miller Brewing Co. Claming Crown Iron Horse, which was for runners that had started for a tag of $5,000 at least once in the past 12 months, drew the biggest field, with 13 entries (though one runner, Mean Kisser, was a program scratch). The six other Claiming Crown events drew smaller fields, and because of the arrival of so many ship-ins, each event offered intriguing angles for horseplayers and fans alike.
The Jewel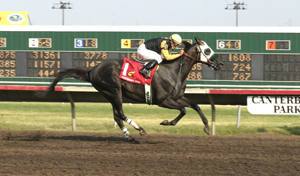 The feature race of the day, the $150,000 Claiming Crown Jewel, attracted the smallest field – six starters – though it was perhaps due to the class at the top of this race. Desert Boom and Lord of the Game entered the event off graded stakes wins. The former, a five-year-old California-bred gelding, had gone wire-to-wire in the Berkeley Handicap (Gr. III) at Golden Gate Fields. Lord of the Game was exiting a narrow score in the Cornhusker Breeders' Cup Handicap (Gr. II) at Prairie Meadows in Iowa (a race that last year featured a one-two finish by Roses in May and Perfect Drift, horses who went on to place one-two in the Whitney Handicap at Saratoga).
Habaneros, a close-up fourth in the Cornhusker, was back for another try at Lord of the Game. Morine's Victory arrived in Minnesota from New Jersey; the four-year-old was riding a six-race winning streak which had begun in the fall of 2004. Extra Fit shipped in from Chicago's Arlington Park, while local hopes were represented by last year's Iron Horse winner, Superman Can, a gelded son of Memo who had scored all seven of his career victories at Canterbury.
Despite his post-race comments, Roberto Gonzalez, an underrated reinsman who has been winning at a 20% clip in California this year, should take at least some credit for Desert Boom's solid, 2 1/2-length victory in the Jewel. Breaking from the inside post, Desert Boom came away alertly and, heading for the clubhouse turn, Gonzalez allowed his horse to drift out one path, a move that gave Eusebio Razo, Jr. no option but to take the stalking Lord of the Game a path wider around the turn, as well.
Robert D. Bone's Desert Boom is used to putting up quick fractions in northern California, but he got away with a comparatively soft ones at Canterbury, clicking off a first quarter in :23.41 seconds, then almost replicating that mark for each of the next two quarters. After six furlongs were completed in 1:10.33, Desert Boom owned a 1 1/2-length lead over Lord of the Game. Jockey Dean Sorensen aboard Habaneros decided to turn up the pressure at this point, ranging his horse up to the inside Lord of the Game. They raced together and, for a moment, both seemed to be gaining on the leader.
Gonzalez and Desert Boom were waiting, though. The imminent stretch battle never materialized. Desert Boom kicked clear of his closest pursuers, a move that seemed to take the wind from Habaneros. Lord of the Game carried the chase resolutely all the way to the finish, but he simply was not good enough.
The final time for the nine-furlong distance was 1:47.32, less than one second off the track record. The effort was especially impressive in light of the weather conditions; a freaky heat wave in the region brought temperatures to the mid-90s. It felt more like a summer afternoon in Mississippi than Minnesota.
"I'm happy I came here today," noted Gonzalez. "It's hot, but I am happy."
"[Desert Boom] is a dream," said winning trainer Art Sherman. "I claimed him once for $25 [thousand], lost him, then claimed him again (last fall at Hollywood Park for $32,000)."
Sherman, who had given Desert Boom a month between starts in order to prepare for the Jewel, noted earlier in the week that his horse seemed to be peaking.
"When I saw that first quarter in :23 and change today, I felt all right," he said. "I knew my horse would finish."
Desert Boom is a five-year-old son of Phone Trick stallion Boomerang out of the Desert Wine mare Sand Dance. He was bred in California by Van Mar Farms.
The Pepsi Express
Prior to the running of the first Claiming Crown race, paddock host Kevin Gorg offered what turned out to be prophetic words. He said, "Because of the weather, the track has never been harder and the times have never been faster."
A short time later, Onlynurimagination clocked the fastest ever six furlongs at Canterbury, stopping the timer in 1:08.04 while winning the $50,000 Pepsi Claiming Crown Express by daylight over Chicago shipper Cicero Grimes. Landler, the Express winner from 2003, was a non-threatening third.
Deborah Isaacs' and Merrill Scherer's Onlynurimagination, a six-year-old gelding, entered the race off three springtime victories at Mountaineer, looked comfortable throughout.
With Walker waiting patiently, the horse raced just outside Cicero Grimes for the opening quarter mile. Walker cut his charge loose nearing the three-eighths pole, and the issue was drawn.
As they returned to the winner's circle, horse and rider – bet down to odds of 9-10 – received their due applause from the hot and happy crowd.
"He put me there," said Walker when asked how easily Onlynurimagination had made the lead. "Merrill [owner/trainer Scherer] really had him ready to go today."
The victory was the eleventh in 45 career starts for the son of Marfa, produced from the Creole Dancer mare Pure Imagination. He was bred in Texas by J. C. Laird and Diamond D Ranch.
Earlier this year, Onlynurimagination was claimed on two separate occasions at the Fair Grounds in New Orleans, once for a price tag of $25,000 and the last time for $50,000 by his current owners.
The Daily Racing Form Rapid Transit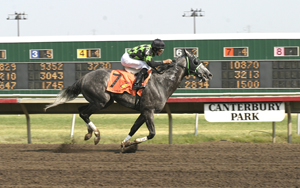 It took 15 years for Canterbury Park's six furlong track record to fall, though ironically enough, had the $100,000 Daily Racing Form Claiming Crown Rapid Transit Stakes been a six-furlong race, Onlynurimagination's record would have only lasted for a little more than an hour. The gray gelding Procreate blitzed through a six-furlong fraction of 1:07.77 in the Rapid Transit, slowing a bit in the final sixteenth of the 6 1/2-furlong tilt to finish in 1:14.54, about a half-second slower than the existing mark for that distance.
Procreate's hard-earned victory over Scott Lake-trained The Student (Arg) hardly had his connections worrying about final times.
In describing Procreate's winning move approaching the far turn, winning jockey Heriberto Castillo Jr. said, "He exploded."
Procreate had rocked another teletimer earlier this year while setting a world record for five furlongs on the turf in winning the Yankee Affair Stakes at Gulfstream Park in Florida, cooking five furlongs in :53 3/5. Prior to a recent start at Monmouth, the seven-year-old gelded son of Mt. Livermore out of the Broad Brush mare Broad Smile had worked three furlongs at Penn National in :33 2/5.
"He's a pretty easy horse to train," said winning conditioner John C. Zimmerman. "He had to earn it today … any time Scott [Lake] is running something, you know you're in for a race."
Thomas McClay, who owns Procreate with Harry Nye, commented, "We claimed this horse for $7,500. He runs well wherever we take, Gulfstream, Monmouth … John really knows his stuff."
Procreate was bred in Maryland by Robert E. Meyerhoff.
The Tiara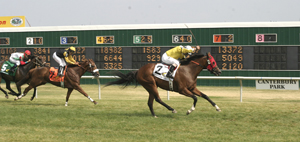 A pair of Canterbury-based runners scored mild upsets at Claiming Crown VII – Inhonorofjohnnie stole away from her six rivals to post an 11-to-1 score in the $100,000 Claiming Crown Tiara, while Ells Editor earned a narrow victory for popular local trainer Percy Scherbenske in the $75,000 WinTicket.com Claiming Crown Glass Slipper.
The Tiara was contested at 1 1/16 miles on the turf and, on paper, the race seemed to hold plenty of early speed. For this reason, jockey Mike Ziegler worked intently on rating the front-running Inhonorofjohnnie in the initial stages of the race. For the first quarter-mile, the horse seemed to be cooperating as Sippin' Devil, another Canterbury resident, zipped out to a short lead. Once the field turned up the backstretch however, Inhonorofjohnnie pulled Ziegler to the lead. "We had a fight," he explained later. "She won."
Regardless of who made the decision to grab the lead, it proved to be a fortuitous one. Inhonorofjohnnie slipped away from the field entering the far turn and owned a four-length lead by the time the cast faced the top of the stretch. The Florida-bred filly finished the race on her toes, winning by 2 3/4 lengths over the Art Sherman-trained, Roberto Gonzalez-ridden O.K. Corral. Inhonorofjohnnie was clocked in 1:43.51 for the distance.
Owner/trainer Owen McQuade paid a mere $1,600 for the horse when Inhonorofjohnnie was just a yearling.
"I ran her for a tag at Remington last fall," McQuade explained. "When I had her at Tampa this year, Nat Wess (racing secretary at Canterbury) reminded me that she was eligible for the Claiming Crown. I'm glad he did."
Inhonorofjohnnie was bred in Florida by Ron and Lori Skrumbellos. She is a 4-year-old daughter of Double Honor and the Stage Door Johnny mare Johnnie Mae.
The WinTicket.com Glass Slipper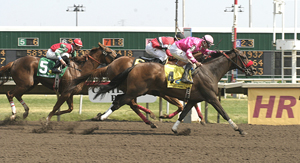 Ells Editor, the other local Claiming Crown winner this year, was haltered by Percy Scherbenske for $10,000 last fall at Hawthorne. "Not really with the Claiming Crown in mind," he explained. "But she earned her way here."
To earn a victory in the $75,000 WinTicket.com Claiming Crown Glass Slipper, Ells Editor had to best, among others, Unforgettable Gal, a Florida-bred filly who had won six straight races, including three allowance tilts at Gulfstream and Delaware Park. Favored in the Glass Slipper, Unforgettable Gal struggled down the stretch and faded to a sixth-place finish.
Ells Editor, cagily managed by jockey Scott Stevens, had stayed away from the fast early pace. She improved to ninth place going around the turn and then stormed home down the middle of the track catch I Will Survive by a head.
"We had a dream trip. The local horses have an advantage, if you asked me," Stevens said afterward. "They are used to this track … and this weather."
After claiming Ells Editor last fall, Scherbenske added front bandages and removed the blinkers from the four-year-old daughter of Editor's Note and the Kennedy Road mare Ells Once Again. The one-time speed-happy mare has responded well; the Glass Slipper was her second win in five starts for her current trainer. In early June, her late rally had taken a Canterbury allowance race in the excellent time of 1:02.60 for five and a half furlongs. Her time for the 6 1/2-furlong Glass Slipper was 1:16.31.
Ells Editor is owned by Doris and Stanley Holland and was bred in Kentucky by John Ropes.
The Dodge Emerald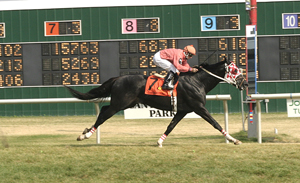 The four-year-old colt Mr. Mabee is named for his late breeder, John Mabee. John Mabee raced many excellent horses during his lifetime, including Best Pal, Event of the Year, General Challenge and Excellent Meeting. The horse named in his honor is, at the moment, a considerable distance from those top Mabee runners. Mr. Mabee, however, seemed to have a wide open future in front of him after handily winning the $125,000 Dodge Claiming Crown Emerald Stakes at a mile and a sixteenth in the very quick time of 1:41.77 on a firm turf course.
A son of Storm Cat out of the Flying Paster mare Young Flyer, Mr. Mabee raced earlier this year for a $17,500 tag at Hawthorne. He won that race easily and was claimed by his current connections, owner William Stirlitz and trainer Jimmy Zook.
"The owner picked him out," Zook said, following Mr. Mabee's 4 1/4-length victory over Sigfreto. "I'm glad he did."
Mr. Mabee was making his second start for Zook in the Emerald. The horse had prepped for the race by winning a turf allowance at Arlington by 3 1/2 lengths. Subsequently, Mr. Mabee had turned in three sharp workouts at Fairmont Park.
Derek Bell, Canterbury's all-time leading jockey by wins, rode the victor. Bell kept Mr. Mabee close to the pace through the first six furlongs of the race, asking the horse for more and receiving it down the stretch.
Bell knew he had the race won when he asked Mr. Mabee for his best. According to Bell, "Right then, I knew they wouldn't catch me."
The Miller Brewing Co. Iron Horse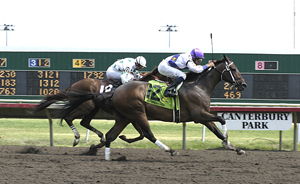 Jockey Heriberto Castillo Jr. was the only rider to win multiple Claiming Crown races this year. He handled the reins on Procreate in the Daily Racing Form Rapid Transit, as well as the $50,000 Miller Brewing Co. Claiming Crown Iron Horse Stakes winner My Extolled Honor. Castillo's rides were diametric opposites: Procreate broke fast and kept running, while My Extolled Honor lagged behind early in the 1 1/16-mile Iron Horse.
Much like Procreate, however, Robert Asaro & Steve Asmussen's My Extolled Honor responded beautifully when his rider asked for more. The seven-year-old Florida-bred son of My Mike and the Hero's Honor mare Extolled went from tenth to eighth to fourth as he rallied. My Extolled Honor collared King of Chicago inside the eighth pole. Both horses fought hard to the wire, with My Extolled Honor prevailing by a half-length. Final time for the distance was 1:43.91.
Winning co-owner Robert Asaro led My Extolled Honor into the winner's enclosure, then quickly turned the shank back over to the horse's groom.
"This guy (trainer Asmussen) really knows how to get 'em ready," Asaro asserted. "This is a real thrill."
"It was just a matter of when to push the button," said Castillo of his winning ride. "I also want to thank Canterbury. The hospitality here is terrific."
In this case, the rider seemed to be echoing the sentiments of fans, horseplayers and horsemen.
My Extolled Honor was bred in Florida by Mike Meeks. He was claimed by his current owners for $10,000 at Fair Grounds in New Orleans, Louisiana on January 2.
Attendance, Handle Decline
Overall attendance of 10,515 was down from last year's crowd of 12,788. Safe to say, the high temperatures were at least one factor for the decline.
Both on and off-track handle declined significantly for this year's Claiming Crown. On-track customers wagered $556,288 on the seven races this year, compared to $617,657 on six races (the Tiara was not held in 2004) last year. Likewise, wagering on the event at off-track sites declined sharply from $2,379,050 in 2004 to $1,344,459.
The reasons for such a sharp decrease in off-track wagering have been the subject of great debate. One significant factor may have been the move of live race coverage this year from TVG to HorseRacing TV (HRTV), which resulted in significant declines in TVG and YouBet.com account wagering on the event. In previous years, TVG had done a live remote broadcast of the event from the host track and shown all of the Claiming Crown races live. Other factors that may have played a part in the declines include short fields in some of the races and strong competition in the simulcast market from tracks like Colonial Downs and Delaware Park.
The Claiming Crown is a joint venture of the National HBPA, the Thoroughbred Owners and Breeders' Association (TOBA), the host track (in this case, Canterbury Park), and the Minnesota HBPA.
© 2005 The Horsemen's Journal