by Andy Plattner
Trainer Scott Lake, jockey Roberto Gonzalez, and turf ace Al's Dearly Bred were names already etched into the Claiming Crown history book prior to the 2006 renewal of the races on July 15 at Canterbury Park. This year, each was able to add another line to his list of achievements. Lake, already the al-time Claiming Crown training leader in sta rts, wins and purse money earned, took two more races in 2006; Gonzalez won his second straight Claiming Crown Jewel with a letter perfect ride aboard Me My Mine; and the nine-year-old Al's Dearly Bred replicat ed his 2001 victory in the Claiming Crown Emerald with a heartstopping raly that carried him past Canadian invader Nooligan in the final stride of this year's edition. With the victory, Al's Dearly Bred became the first horse to win two Claiming Crown races.
Canterbury has hosted all but one of the Claiming Crowns since the races were inaugurated in 1999, and this day of races is the highlight of the track's summer season. Canterbury's other marquee event, the $100,000 Lady Canterbury Stakes for fillies and mares, was moved to Claiming Crown day this year and was run as the third race on the card. Canterbury officials offered another bonus for fans: post time was moved back three hours to 4 p.m. Last year's Claiming Crown races were run in middle afternoon in the stifling Midwestern heat. This year, by the time the Richard Scherer-trained Radiant Avie had gone wire-to-wire in the Lady Canterbury, the afternoon's fever had broken.
The Jewel
At day's end, Richard Englander, owner of Claiming Crown Jewel hero Me My Mine, echoed the sentiments of many horsemen as he addressed a grandstand still packed with racing fans and handicappers.
"Canterbury is such a great place," he said. "I love the (Claiming Crown program). We appreciate everything."
Englander, who had previously won Claiming Crown races as an owner in 2000 and 2001 and is perennially among the nation's leaders in races won, had reason to be grateful. Me My Mine, claimed just a month earlier for $40,000 at Bay Meadows, had eked out the narrowest of victories over 4-to-5 favorite Sinners N Saints in the $150,000 Jewel. Toting 122 pounds and the pace-savvy Gonzalez, the six-year-old gelding was able to open a lead early while stepping an opening quarter mile in :24.14 seconds. Pressed lightly by longshot Feature, Me My Mine was able to stay at a comfortable speed (:47.81 for the half and 1:11.48 for six furlongs) as he led the field down the backstretch. Sinners N Saints, under the guidance of jet-setting jockey Rafael Bejarano, crept closer as the field hit the last turn, but then, just inside the homestretch, Me My Mine quickly opened his lead to almost three lengths.
It was in the last 100 yards that the safe lead of Me My Mine began to diminish. And it did so quickly.
Under the vigorous urging of his rider, Sinners N Saints suddenly kicked into another gear, and by the time they hit the finish, they were inches from having caught the leader. Had the Jewel not been shortened by a sixteenth of a mile this year, the outcome might have been a different one.
"I had horse left," Gonzalez said, in a matter of fact way, afterward. "He ran easy for a long time."
Me My Mine finished the race in 1:43.37. The first place money of $82,500 pushed him over $300,000 in career earnings.
Winning trainer, the northern California-based John Martin, was quick to point out that Englander had made the decision to claim Me My Mine from the horse's last race, a $40,000 claiming event going a mile on the turf at Bay Meadows.
"I was really happy to see the split of that opening quarter mile," Martin also noted. "I started to feel good about things right there."
Me My Mine, the strong second choice in the field of six, returned $8 to win. The Florida-bred gelded son of Belong to Me had been claimed on five different occasions since October of 2005, and looking over his recent record, it is easy to understand why a trainer might want this kind of horse in his barn. Though changing hands frequently since last fall, Me My Mine has started nine times, winning six (including five photo-finishes) and only missing the board once, when racing over a wet-fast track at Bay Meadows.
"He's a solid horse," asserted winning trainer Martin.
The Iron Horse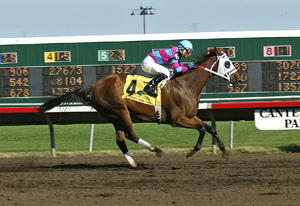 Betting favorites did win the first three Claiming Crown races of the afternoon, and the victors had something else in common: each arrived in Minnesota from the Mid-Atlantic region. Actually, Scott Lake brought Distinct Vision to Canterbury from his Maryland home base three weeks early for the mile and a sixteenth Iron Horse. Distinct Vision made a starter race at Canterbury his seventh straight win.
The Iron Horse turned out to be number eight, and the result here was probably the least surprising one of the afternoon. Owning a huge class and tactical advantage over his nine foes (Distinct Vision was the lone speed in the race), the Lake charge earned a short lead over outsider Gospodin early. Heading for the far turn, jockey Jose Flores asked Distinct Vision to widen, and the race was never really in doubt thereafter. The six-year-old son of Saint Ballado hit the finish line 4 3/4 lengths in front of Chicago-based Wheaty, who finished strongly after being shut off at the start of the race.
"There was a little pressure early," winning jockey Jose Flores said. "But he was running very easy."
"I told (Jose) to get him comfortable early, and that's what he did," Lake explained while walking briskly for the paddock to saddle another odds-on choice, Funny Woman, in the Claiming Crown Glass Slipper. "I'll take Distinct Vision back to Maryland and look for something."
Chances are, the trainer will find the right spot.
The Iron Horse marked the seventh straight time Distinct Vision had left the post as the odds-on favorite. The victory brought $27,500 for owner Carl Moore Management, LLC of Texas. Distinct Vision made the Iron Horse the 18th victory in his career and pushed his earnings over $370,000. He completed the distance in 1:44.66.
Win Ticket Glass Slipper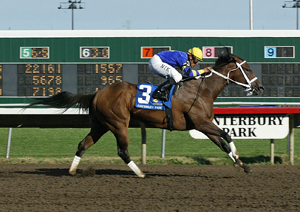 Lake was in a hurry to get to Funny Woman, and she was in a hurry when she left the gate in the six furlong, $75,000 WinTicket Claiming Crown Glass Slipper. A California-bred daughter of Strike Gold and Funny Reality, Funny Woman zinged the opening quarter in :21.32 seconds. It was a fast split, but Funny Woman clearly thrives while racing in front. She stayed in command throughout the race, winning handily over another Cal-bred, Da Svedonya, by 3 1/2 lengths.
Like Distinct Vision, Funny Woman prepped for her Claiming Crown race in a starter event at Canterbury. She won that race easily and, according to Lake, "Prepping her at Canterbury sharpened her up for this race. I think the same is true of Distinct Vision."
He continued, "We come out here every year. It's a blast. I think coming early helped. So, yeah, I might do it again next year."
Funny Woman was claimed last December from a $25,000 optional event at Laurel. She has not been offered for a price since.
Funny Woman's Glass Slipper score was her fifth in seven starts while under Lake's tutelage.
She completed the six furlong distance in 1:09.93. The winner's share of $41,250 vaulted her career earnings over $210,000.
The Daily Racing Form Rapid Transit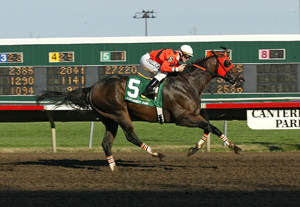 Crafty Schemer gave the Mid-Atlantic region its third straight Claiming Crown trophy when the seven-year-old rather easily bested a solid group of seven sprinters in the six-furlong, $75,000 Daily Racing Form Rapid Transit.
Like both Lake winners, the victory was accomplished in wire-to-wire style. Crafty Schemer wrestled with Churchill shipper Edgerrin and Lake-trained Must Win Soon in the early stages of the race; the threesome moved together through a blistering opening quarter in :21.33 seconds. Under Ryan Fogelsonger, Crafty Schemer shook free of his rivals approaching the turn, and by the head of the stretch, he was four lengths in front.
With a half-mile completed in :43.25, Crafty Schemer figured to wilt a bit down the lane. Local runner Seneca Summer made a nice move late to cut into the leader's margin, but Crafty Schemer was still 2 1/2 lengths in front at the wire. He completed the distance in 1:08.74.
"Forty-three?" Fogelsonger said, while looking in admiration at the tote board afterward. "I thought he was going in forty-six."
"I had this race in mind for a long time," commented winning trainer Ben M. Feliciano, Jr. "He's been running against some tough horses."
Prior to his Rapid Transit start, Crafty Schemer had gone unplaced in the Commonwealth Breeders' Cup (Gr. II) at Keeneland and the Maryland Breeders' Cup Handicap (Gr. III) on Preakness Day at Pimlico.
A burly son of Crafty Prospector, Crafty Schemer was claimed last fall for $16,000 at Delaware Park. The Rapid Transit marked his fifth win for owner Toby Roth and trainer Feliciano. The horse pocketed $41,250 for his connections.
"They treat you like gold here," Feliciano said. "I tell everyone about it."
The International Horsemen's Wagering Assurance Tiara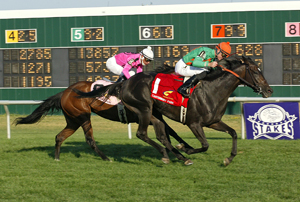 Soft-spoken, locally-based trainer Ruth Cook looked peacefully elated after her four-year-old filly Tens Holy Spirit captured the $100,000 International Horsemen's Wagering Assurance Claiming Crown Tiara at a mile and a sixteenth over the Canterbury turf course. She also did not hesitate to admit the race was not her first choice.
"The owners wanted to run here," Cook explained. "I already had another horse going, My Philly. I don't like to run my horses against one another. I was thinking of running (Tens Holy Spirit) in the Lady Canterbury."
Cook's caution against pitting runners against one another is certainly understandable, especially in light of the fact that unlike the mega-operation of a Scott Lake – who had already started horses in over 1,200 races by mid-July and was on pace to win more than 500 races by year's end – she trains just seven horses.
"I had a horse that placed in a Minnesota-bred stakes last year," Cook said. "But I've never won anything like this."
Tens Holy Spirit benefited from a superb ride by Canterbury's "turf doctor," Paul Nolan. The Florida-bred broke from post one, saved ground around the clubhouse turn, and let the early speed horses – which included My Philly – expend their energy through decent early fractions of :23.41, :47.10 and 1:11.26.
Spy Aly, a shipper from Southern California, stayed on longer than the early front-runners and opened a clear lead at the eighth pole. Nolan had edged Tens Holy Spirit into the clear by this time, and they wore down the leader throughout the final sixteenth of a mile to win by a half-length. Tens Holy Spirit finished the distance in 1:42.84.
A foul claim by the third-place finisher Moorebella's rider, Nik Goodwin, was disallowed. Lake, the trainer of Moorebella, concurred with the steward's decision. "There was a bump, but not enough for a disqualification. My horse ran her race."
"She's a really honest horse," winning trainer Ruth Cook said of Tens Holy Spirit. "Getting better all the time."
The Tiara winner earned $55,000 for her owners, Law, Leninger and Rowe. The money nearly doubled her career earnings, which stood after the race at just over $120,000.
The Express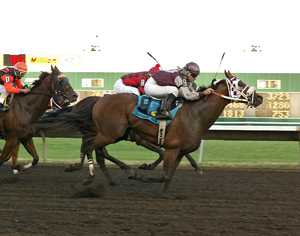 Tens Holy Spirit rewarded her backers with a nice $28.20 win mutuel. Those who backed another local horse, Castello d'Oro, in the $50,000 Claiming Crown Express at six furlongs, walked away from the windows even richer. Owned by Gary McCloud, a well-known face on the Canterbury scene, Castello d'Oro held off Texmckay late and won in the final time of 1:10.12.
Entering the race off a non-threatening sixth place finish in a starter race at Canterbury, Castello d'Oro left the gate at odds of $34.90-to-1. His $71.80 win mutuel established a Claiming Crown record.
Winning jockey Helen Vanek made it all sound simple enough, saying, "He had a funny start, but after that I just got him settled and got him into the clear. He was wide around the turn, but he had clear running. He wanted to win."
Castello d'Oro had actually been outrun in two straight Canterbury starts, but there might have been explanations for those defeats. His fifth place finish in an optional claiming race was at the hands of some of the best sprinters on the grounds, including Rapid Transit runner-up Seneca Summer. His sixth place finish in the starter race prior to the Express came over a sloppy track.
Trained by Randy Rarick, Castello d'Oro signaled that he might be ready for a big race in the Express by turning in a half-mile work in :46 4/5 a few days prior to the race.
After the race, however, McCloud might have been speaking for most handicappers and analysts everywhere. When asked if he could have imagined Castello d'Oro pulling off such an upset, he grinned and said, "No!"
Castello d'Oro is a Washington-bred gelding. He earned $27,500 for his efforts in the Express.
The Emerald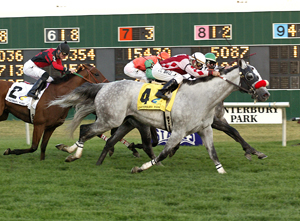 The best shot for another local victory in the $100,000 Claiming Crown Emerald seemed to belong with Al's Dearly Bred, a classy, cagey, nine-year-old gelding whose lone loss over the Canterbury turf course in seven career starts came in a photo finish in the 2004 edition of the John Bullitt Stakes. Al's Dearly Bred had changed hands three times since then, the latest claim put in by trainer Marvin Johnson for $20,000 prior to a Canterbury claiming race on June 11.
"I took a chance," Johnson said. "One of the reasons I did was that I knew he was in good hands (prior to the claim, Al's Dearly Bred was trained McLean Robertson). We took a chance."
However, with a half-mile left to run in the mile and a sixteenth Emerald, Johnson's gamble did not look like it was going to produce dividends. Al's Dearly Bred was racing dead last in the field of 11, and the pacesetters were not exactly burning a hole in the wind. Entry Point, a California shipper from trainer Jeff Mullins' barn, led the field through a half mile in :47.61.
The pace was not unreasonable, but when his rivals came to get Entry Point, he surrendered quickly.
Bodgiteer winged his way to the lead under Jose Ferrer, and Canadian invader Nooligan was moving even faster right behind him.
A melee of fading pace types and late runners was unfolding right behind them, and among this mix was Al's Dearly Bred. Just outside the eighth pole, jockey Derek Bell guided his horse into the clear.
"His ears went up," Bell said. "I knew right there he was going to win."
At the time, Bell might have been the only guy in the place who thought so. Al's Dearly Bred still had a half-dozen horses to pass and was quickly running out of time. However, in what might be remembered as one of the most remarkable stretch runs in Claiming Crown history, Al's Dearly Bred hurtled his way forward, charged past his rivals, and nailed Nooligan in the final stride.
"A total pro," Bell said. "The horse is a total professional. He shut down right after the finish, knew his job was done."
Owned by a partnership that includes Husker Racing and trainer Johnson, Al's Dearly Bred earned $55,000 for his very well measured efforts. The victory pushed him over a half-million dollars in career earnings, and it certainly embedded him as the quintessential horse-for-course in Canterbury annals. The Emerald marked his seventh win in eight starts over the local lawn.
The exhilarating finish provided a highlight for the Canterbury fans. The track counted a total of 11,644 patrons on Claiming Crown day, a jump of more than a thousand from last year's count. The total live handle of $932,704 and off-track handle of $1,776,198 represented solid gains from last year's races.
The Claiming Crown races this year were sponsored in part by the Daily Racing Form, WinTicket.com, and the International Horsemen's Wagering Assurance Group (IHWAG). The Claiming Crown series was initiat ed in 1999 as the result of a partnership between the National Horsemen's Benevolent and Protective Association (NHBPA), the Thoroughbred Owners and Breeders Associat ion (TOBA), and Canterbury Park. Modeled after the Breeders' Cup Championship, the Claiming Crown races are designed to celebrate and honor the blue collar Thoroughbreds of the claiming ranks.
© 2006 The Horsemen's Journal