by Andy Plattner
As trainer Mike Maker watched his entry in the Unbridled Spirit Iron Horse Stakes, Bargainwiththedevil, jog back for the winner's circle, he said, "Well, to win five, you have to win one." And then he laughed mildly, as if all of this was just wishful thinking.
The "five" Maker was referring to happened to be the number of horses he had running in this year's Old National Bank Claiming Crown races, which were held on a searing August 4 afternoon at Ellis Park in western Kentucky.
At day's end, the trainer came close enough to making an incredible wish come true. Maker won three of the seven Old National Bank Claiming Crown events. In addition to Bargainwiththedevil's 8 1/4-length romp in the $50,000 Unbridled Spirit Iron Horse, the trainer sent out One Eyed Joker to take the $100,000 Pepsi Emerald Stakes. He also won the day's feature event, the $150,000 Old National Bank Jewel Stakes, with Miami Sunrise. Ellis Park regular Miguel Mena rode all three of Maker's Old National Bank Claiming Crown winners.
The trainer's other starters were Sole of the City, who ran fourth in Kentucky HBPA Glass Slipper Stakes, and Korbyn Gold, who finished a fast-closing third in the Daily Racing Form Rapid Transit Stakes.
The $150,000 Old National Bank Jewel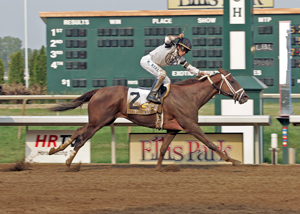 Maker had speculated earlier in the afternoon that Miami Sunrise might have the best chance of all his Claiming Crown starters. This despite the fact that the five-year-old gelding was emerging from a pair of $10,000 starter allowance races at Churchill Downs. In the Jewel, Miami Sunrise would be meeting horses exiting good efforts in optional claiming races in the $50,000-$60,000 range. Semi Lost, who would leave the gate as the 2-to-1 favorite in the Jewel, came into the race off a facile win in a $20,000 claiming race at Hollywood Park and seemed to be rounding into something of his old self after two-and-a-half years away from the races. As a three-year-old in 2004, Semi Lost had won the Pomona Derby and also had placed second in the La Jolla Handicap (Gr. IIT) at Del Mar. Semi Lost also seemed to be the only natural speed horse in the 1 1/8-mile Jewel.
At the break, Semi Lost and his rider, Jesus Castanon, surprised no one when establishing an early lead. They were tracked by New York shipper Ricardo A, and then when that runner began to retreat going down the backstretch, 51-to-1 outsider Demagoguery and his rider, Tom Pompell, came rolling up to take on Semi Lost. The favorite was able to repel the challenge without much trouble, but turning for home, these early battles seemed to have taken just enough starch from Semi Lost. Miami Sunrise had been waiting just behind the front skirmishes, and after the other contenders had fallen away, Mena aimed his horse for the leader.
Outside the eighth pole, Miami Sunrise grabbed the lead. He went on to win the Jewel by 1 3/4 lengths in the final time of 1:50.83. Semi Lost was easily second over Kings Challenge, whose belated rally had him finishing just ahead of Demagoguery.
"He's a really neat little horse," Maker said of Miami Sunrise. "In both of his two wins at Churchill, he had all kinds of trouble. Yet he found ways to win. Horses like that are exceptional, no matter what class level they run in."
Miami Sunrise has proved to be something of a winning Instant Lotto ticket for Maker and the horse's owners, J and J Investments. Miami Sunrise was claimed for just $10,000 from its previous owners on April 23 at Tampa Bay Downs. The Jewel marked just his fourth start for Maker (the two starter allowances at Churchill and a third place finish in an allowance race at Mountaineer Park). First place money of $82,500 ran the Florida-bred's career earnings to $188,019.
The $100,000 Pepsi Emerald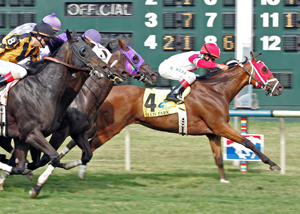 While Maker could take credit for deftly bringing each of his Claiming Crown winners to their races in top order, Mena could also take a bow for his smart rides in the Old National Bank Jewel and the Unbridled Spirit Iron Horse. In each of those races, the jockey took his time, kept the favorite in his sights, and moved at opportune moments.
In the Pepsi Emerald, however, Mena was also just lucky. While several of his rivals were winging their way wide around the turn or finding traffic trouble at critical stages late in the race, Mena and One Eyed Joker found a hole opening suddenly for them inside the last sixteenth of a mile. Leader Habaneros drifted just enough, and One Eyed Joker flashed inside him and went on to win the 1 1/16-mile turf race by a half-length.
Habaneros, one of several Canterbury Park runners to ship to Ellis for this year's Claiming Crown, took second by a nose over Arlington Park-based Great Bloom. It was a typically run Emerald – a free-for-all stretch drive that had the top ten finishers winding up with just four lengths between them at the wire. Final time for the distance was 1:40.23.
"I was waiting for room all down the stretch," a relieved-looking Mena explained afterward. "When (Habaneros) came out, I had my chance. I knew I had enough horse. But really I was lucky. Looks like it's just our day."
One Eyed Joker is owned by Eclipse Award winners Kenneth and Sarah Ramsey. A nine-year-old gelded son of Polish Numbers, One Eyed Joker seems to be a solid performer on turf, Polytrack, and dirt. Earlier this year, he finished second in a starter allowance race on the dirt at Gulfstream and third in a starter race over Keeneland's synthetic main track. Prior to his Emerald score, One Eyed Joker had won a local prep race at Ellis, a one-mile event where he had gone very wide under Mena and just got up at the line.
The $100,000 Toyota Tiara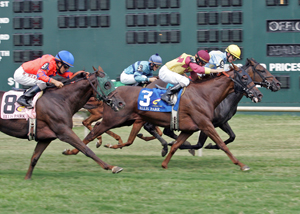 The Claiming Crown's other turf event, the $100,000 Toyota Tiara for fillies and mares at a mile and a sixteenth, featured an equally wild scramble to the wire, with the first seven finishers winding up just two lengths apart. The winner turned out to be Unplugged, a five-year-old mare that had been claimed five times this year before winding up in the barn of trainer Paul McClelland in late May.
"I wanted to claim another horse in the race (a $25,000 claimer at Delaware Park)," commented Unplugged's part-owner, John Witte. "But Paul talked me into this one. Man, am I glad he did!"
Actually, Witte arrived in the winner's circle looking as if he had been in a race himself. His light green button down shirt was rumpled and untucked, and his forehead was brimming with sweat. "I didn't think we got it," he said. "This is like winning the Kentucky Derby!"
Unplugged's victory, in part, could be attributed to a cunning ride by Corey Lanerie, who was able to restrain the speedy Unplugged behind the early pace battle between Heathersdaddysbaby and Classic Tiara. When a hole opened, Unplugged dove for the lead, and he nosed ahead just as the wire arrived.
Heathersdaddysbaby, a shipper from Charles Town, deserved an equal amount of praise. Ridden by Paul Nolan, she pushed the pace throughout and fought all the way to the last stride.
Final clocking for the distance was 1:42.04. Unplugged earned $55,000 for the score, her third victory in five starts since joining McClelland's barn.
"This is a great track," the trainer said afterward. "Feels like the best one I've ever been to."
The $100,000 Daily Racing Form Rapid Transit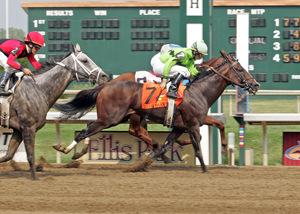 Miguel Mena set a record of sorts by winning (three) or placing (four) in all seven Claiming Crown events. However, jockey Paul Nolan, who hangs his tack at Canterbury Park during the summer, would have a memorable afternoon as well. In a couple of cases, Nolan was unlucky: he lost the Tiara in the last stride, and he would suffer a similar fate in the six furlong Daily Racing Form Rapid Transit Stakes. In that race, Nolan's ride, Lookinforthesecret, led for every step except the final one, where he was caught by Neverbeendancin'.
Lookinforthesecret entered the Rapid Transit off three straight rocket-fast victories, including two stakes at Canterbury Park. He seemed to be a deserving even-money favorite, and the horse certainly did everything in its power to get to the wire first again.
After setting hot fractions of :21.79 and :44.65, Lookinforthesecret fought on gamely when hooked by Neverbeendancin' turning for home. It took the length of the stretch for the latter to get past him, too. The race was run in 1:10.72.
According to winning rider Brian Hernandez, "I asked Paul as we stood up after the finish 'Who got it?' He said, 'Yeah, you won it.' I didn't know, though. I was too busy riding hard."
For his part, Neverbeendancin' certainly is busy running hard these days. The win marked his third straight for his latest trainer, Steve Margolis, who conditions the four-year-old colt for Richard Bertram and Elaine Klein.
"That was a very good race," Hernandez said. "This horse gave everything he had. I think the other horse did, too."
Neverbeendancin' joined the Margolis barn this spring. His owners pocketed $41,250 for his Rapid Transit win, and the horse has now earned $173,057, having won nine of 27 career starts.
The $75,000 Kentucky HBPA Glass Slipper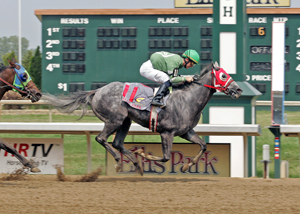 In the six furlong Kentucky HBPA Glass Slipper Stakes for fillies and mares, Nolan steered Iowa-based Adore You past front-running Sumneytown and held off 3-to-2 favorite Mama's Temper late to win the race by a length in 1:10.70.
Nolan was fortunate to have a clean trip, and Adore You's backers perhaps could not believe their eyes as the consistent filly was allowed to leave the gate at odds of 49-to-1. Her $2 payoff was $100.80.
The really strange part? Prior to the race, Nolan had not even laid eyes on Adore You.
"Nope," he said afterward. "Never seen her before. The trainer named me, and I took the ride. He said try to keep her close [early], and I did. She put me in the race, and when I asked her to go past the leader, she did." He shrugged at this.
Could he believe she paid $100 to win?
"I don't look at the toteboard," Nolan answered. "I just ride."
Timothy Martin, who trains Adore You for owner Rodney Morgan, appeared sheepish in the winner's circle afterward. He explained, "There was a van coming here (from Martin's base at Prairie Meadows in Iowa), so I put her on it. I thought it was a pretty tough race on paper. I thought she'd get part of it … maybe."
Adore You has been getting part of it on a consistent basis since being claimed for $12,500 in mid-January at Oaklawn Park. Prior to the Glass Slipper, she had won twice in eight starts for Martin and had placed in five others.
"Some of those races at Prairie Meadows are tough," Martin explained. "Especially the sprints. I guess they set her up for this all right."
Adore You, a roan daughter of Tactical Cat, earned $41,250 for the score. She has earned over $80,000 for Martin, and her owner and now has accumulated $153,777 in career earnings.
The $50,000 Sysco Express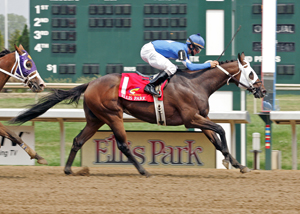 A remarkable mare named Golden Hare was the one horse who kept the betting favorites from being shut out on the day. And, frankly, if she had lost, this would have been the biggest upset of the afternoon. Since being claimed by Steve Asmussen for $3,500, Golden Hare made the Sysco Express her twelfth win from her last 13 starts. During that time, she had won at eight different tracks; her lone defeat this season was by a nose in a starter race at Churchill Downs.
Owned by Scott Blasi Racing Stable, Golden Hare added another victory to her near-impeccable record as she led all the way around and held off the steady late run of Implicit to win by the Express by a length in 1:10.17, which was the fastest six furlong clocking of the afternoon. A smallish eight-year-old daughter of Gilded Time, Golden Hare counted the victory as the 16th in her career. The prize money of $27,500 pushed her career earnings over $310,000.
"She's all heart, that's for sure," commented Kristin Crawford, the Asmussen assistant who saddled Golden Hare. "You put her in and away she goes. I'm glad; this was nice. But I don't have the pressure like Scott (Blasi, who is also an Asmussen assistant). He's at Monmouth with Curlin (who would finish third in the Haskell Invitational the following day)."
"She did all the work," said winning rider Corey Lanerie of Golden Hare.
The $50,000 Unbridled Spirit Iron Horse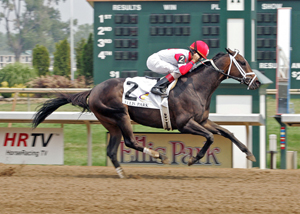 The previously mentioned Bargainwiththedevil kicked off Claiming Crown 2007 day with a huge, easy score in the Unbridled Spirit Iron Horse at a mile. The track configuration for one mile races at Ellis is a unique one as there is a chute that features a gentle curve that leads to the backstretch (actually, for one mile races, it seems that the horses are literally breaking from the parking lot). It was just after this curve, at the three-quarters pole, that Bargainwiththedevil hooked up with favorite Kenai River. They raced just behind early leader Hoodoo Peak and then moved as a team past him nearing the half-mile pole.
Bargainwiththedevil, racing on the inside, suddenly turned the match race into a one horse show just inside the three-sixteenths pole. The son of Southern Halo drew away in facile fashion, leaving the others in his wake. The final time here was quite good, as well, at 1:36.65.
The Iron Horse marked Bargainwiththedevil's fourth start of the year. Maker explained, "I tried to get away with running him for $12,500 off a (nine-month) layoff, but he got claimed. I claimed him back two races later. There were four claims in for him that day, so we got lucky to get him back."
The Iron Horse winner is owned by the Kenneth and Sarah Ramsey, and the purse money of $27,500 pushed his career earnings to $110,999.
Like all other winners on the card, the Bargainwiththedevil has been a bargain for its owners.
By the Numbers
This season marked the first time the Claiming Crown races were hosted by Ellis Park. Kentucky-based horses figured to play a prominent part in the results, and they most certainly did, winning five of the seven races. Locally familiar riders were able to display their talents on a national stage, and among the standouts were Mena, Lanerie, and Hernandez.
One of the surprises, however, and perhaps this is a pleasant one overall for the Claiming Crown, was the one winning favorite on the day. The Breeders' Cup Championships are fantastically attractive to horseplayers for their large fields and great betting values (read: payoffs). Bigger payoffs mean better value, and this, of course, is what all horseplayers are after. This is also something in which Claiming Crown officials are most interested. In addition to Adore You's startling victory, astute horseplayers would have been handsomely rewarded with One Eyed Joker's $44.40 mutuel. Miami Sunrise paid $13.40, which also seemed generous considering how the day had already gone for Maker and Mena.
Claiming Crown cards have attracted as many as 11,000 patrons when the races have been run at Canterbury Park, so perhaps the announced crowd of 6,611 might be viewed as a disappointment. However, the all-sources Claiming Crown handle of $4.9 million was well ahead of the previous record mark of $3.6 million.
Both TVG and HRTV horse racing channels carried the Old National Bank Claiming Crown races live, and the Daily Racing Form, as usual, gave the Claiming Crown races plenty of editorial support on race day. Next year, the Claiming Crown returns to Canterbury Park, where officials will undoubtedly look to one-up the good show put on at Ellis Park.
The Claiming Crown series was initiated in 1999 as a result of a partnership between the National Horsemen's Benevolent and Protective Association, the Thoroughbred Owners' and Breeders' Association, and Canterbury Park. The Claiming Crown races are modeled after the Breeders' Cup Championships. The Claiming Crown offers seven events, each restricted to horses which have raced for claiming prices of varying degrees in the past 12 months. The Claiming Crown is designed to honor and celebrate the best of the blue collar horses that primarily fill American race cards on a daily basis.
© 2007 The Horsemen's Journal