by Richard E. Glover, Jr.
After a successful venture to Ellis Park in Henderson, Kentucky last year, the Claiming Crown returned to Canterbury Park in Shakopee, Minnesota on August 2 for an exciting and eventful tenth renewal. Kentucky's presence was still felt this year, regardless of geography, as five of the event's seven races were taken by Kentucky-based horses.
According to Claiming Crown Coordinator Nat Wess, "I think having it in Kentucky last year really helped increase awareness among their horsemen."
A crowd of 10,188 turned out on a beautiful, sunny day at Canterbury Park for Claiming Crown X, and they were treated to a day of exciting races put on by a group of very strong fields.
The Claiming Crown, a joint partnership between the National Horsemen's Benevolent and Protective Association (NHBPA) and the Thoroughbred Owner and Breeders Association (TOBA), was designed to be an annual day on the racing calendar that highlights claiming horses – the "working class" backbone of the racing industry – and their connections. Claiming Crown X consisted of seven races with purses totaling $600,000 open to qualifying horses from around the country that had started at least once since January 1, 2007 for a claiming price ranging from $7,500 (or less) to $35,000 (or less).
Now in its tenth year, eight of the first ten renewals of the Claiming Crown have been conducted at Canterbury Park, with the exceptions being 2002 (Philadelphia Park) and 2007 (Ellis Park).
The Iron Horse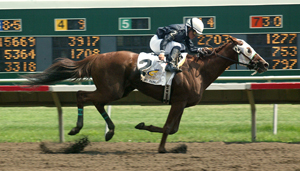 Without question, the best story of the day came out of the $50,000 Claiming Crown Iron Horse when Kentucky shipper Antrim County stalked the early pace set by House of Usher and pounced to the lead in the stretch, drawing of for a 3 ½ length victory over that foe to get the 1 1/16 miles in 1:43.09.
Winning jockey Fernando De La Cruz followed trainer Clifford "Jay" Wilkinson's instructions perfectly. Wilkinson had told De La Cruz, "Don't let them get too far in front."
Wilkinson explained, "We didn't want somebody stealing this race." He also said that he knew Antrim County was a winner by the quarter pole. "I knew then that they couldn't beat him."
What made the victory by Antrim County, a five-year-old gelding by Giant's Causeway out of the Fappiano mare Bright Feather, so special is the story behind his owners, Boys Haven Equine.
Boys' Haven is a Louisville, Kentucky-based organization that works "to empower abused, homeless and struggling youth and their families to become healthy, self-sufficient members of the community through continuing professional care." Trainer Wilkinson, a retired Louisville police officer, approached the nonprofit in October of 2006 with the idea of beginning an equine program to help children recently aged out of foster homes attain an employable lifestyle.
Boys Haven Equine currently owns 10 horses that stable at the Trackside training center near Churchill Downs in Louisville. The youth who work with the horses as grooms, hot walkers, and exercise riders, receive 10 percent of the horses' earnings for their efforts, as well as learning skills for the future.
Wilkinson told the Minneapolis Star-Tribune, "While the kids are in the state's care, the big goal is to get them a diploma or high school equivalency, but they never touch on employment skills. So they don't know about work ethic. They don't know how to take direction. They don't know how to get along with co-workers. What this program does is give them all that training."
Two of the program's youth, 18-year-old Herbie Felix and 19-year-old Jeramiah Lentz, accompanied Wilkinson and Antrim County to the Claiming Crown, caring for the horse and, in Felix's case, translating the trainer's pre-race instructions to jockey Fernando De La Cruz.
Boys Haven Equine had claimed Antrim County for $7,500 from Kenneth and Sarah Ramsey and trainer Mike Maker out of a $7,500 claiming race at Churchill Downs which the horse won over a sloppy track on May 15 by 9 ½ lengths. Since then, he had registered two victories at Churchill Downs and one third place finish at Arlington Park for his new owners.
House of Usher held sway for second behind Antrim County in the Iron Horse, a distant 10 ½ lengths in front of third place finisher Deputy Tice. E'Carte', Biblical Scholar, Hopetown Hero, Mynavigator, and Moon Kid trailed past the wire.
The Glass Slipper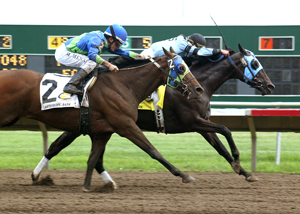 At the betting windows, the $75,000 Claiming Crown Glass Slipper was a tight race between Chippewa Court and Morghyn, and that is exactly the way the six furlong race for fillies and mares, three and up, played out.
Morghyn went off as a slight favorite in the Glass Slipper on the strength of her last two races – victories at Churchill Downs in $40,000 and $25,000 claiming races. It was Chippewa Court, however, that withstood a stretch-long challenge from Morghyn to emerge victorious by a neck in 1:09.75.
Chippewa Court, a four-year-old Kentucky-bred filly by Doneraile Court out of the Navajo mare Chippewa Falls, stalked the early pace set by Moonlight Dreamer and grabbed the lead coming into the stretch while being carried wide by that foe. Morghyn rallied from last place in the five-horse field, splitting horses to challenge Chippewa Court in midstretch. Under jockey Eusebio Razo, Jr., Chippewa Court refused to yield the lead and held on all the way past the wire.
Notching her third victory in her last four starts, Chippewa Court's 2008 campaign epitomizes the competitive nature of today's claiming game. In eight starts this year prior to her Glass Slipper triumph, she had been claimed six times. Despite all the changes, she has compiled an admirable record of four wins, two seconds, and a third in nine starts this year.
Chippewa Court was most recently claimed for $25,000 from Richard and Karen Paplese and trainer Hector Magana out of seven furlong claiming race at Churchill Downs on July 2 by owner-trainer Merrill R. Scherer for himself and partner Daniel A Lynch.
Lynch was not very familiar with Chippewa Court before the Claiming Crown, but he will not have a problem remembering her now. He commented, "I didn't know this horse's name until yesterday. We supplemented her and got lucky." That luck turned into a $41,250 payday for Chippewa Court and her connections.
Adore You, winner of the Glass Slipper in 2007, came into the contest off a few bad races and was sent off as the longshot in the small field. She turned her form around with a solid third place finish, five lengths behind the top pair and a neck in front of Moonlight Dreamer. It was 6 ¼ lengths further back to last place finisher Quick Sale.
The Allied Waste Services Express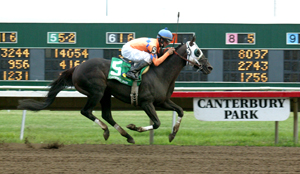 Local hope Chickster came into the $50,000 Allied Waste Services Claiming Crown Express for horses who had raced for a claiming tag of $7,500 or less since January 1, 2007 of a five-race win streak and as the winningest horse in the country so far this year with ten wins. However, that still was not enough to make him any better than the third wagering choice behind Delaware and Kentucky invaders Fireonthewire and Extra Exclusive, respectively.
As was the trend for the day, it was the Kentucky invader that snatched the victory. Bo Hunter and Kevin Kordsmeier's Extra Exclusive tracked the first pack led by Chickster early, and he began to advance gradually past his foes on the turn under encouragement from jockey Corey Lanerie. Extra Exclusive burst through an opening in the upper stretch to take the lead, and he just widened his advantage from that point to cross the wire a commanding five lengths in front of Pinecrest Inn in 1:09.49.
Longshot Pinecrest Inn surprised with a strong rally from last place in the eight-horse field to take second, a half-length in front of favored Fireonethewire. Chickster faded to finish fourth, another 1 ½ lengths behind Fireonthewire. Secret Fever, Cool Lover, Captain Malory, and Blake Rattlenroll completed the order of finish. Bold Fury, Dufourspitze, and Laudable were scratched.
Extra Exclusive, a six-year-old son of Awesome Again and the Lear Fan mare Prominent Feather, is trained by Cody Autrey. He was coming off a 1 ¾ length victory in a six furlong starter allowance at Ellis Park on June 11 – his fourth win in his last six starts. He was claimed by his owners for $32,000 out of a six furlong claiming race at Oaklawn Park on March 2, 2007 from Southside Boys, Inc. and trainer Randy Morse.
The John Deere Turf Tiara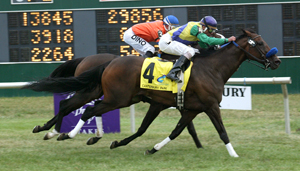 After winning the Glass Slipper with Chippewa Court, trainer Merrill Scherer only had one more chance for the afternoon, and that chance did not seem like a very good one to most observers as Cat Hop was sent off as the second longest shot on the board in the 1 1/16 miles $100,000 John Deere Claiming Crown Turf Tiara for fillies and mares, three and up, that had run for a claiming tag of $25,000 or less since January 1, 2007.
However, teaming with jockey Eusebio Razo, Jr. like he did with Chippewa Court, Scherer again took home the winner's share.
Simply Run was sent off as a strong favorite off the strength of her last two starts – wins in $50,000 claiming and $62,500 optional claiming races going six furlongs on the Hollywood Park turf course. Cat Hop, coming off a two length win in a $40,000 claiming race going 1 1/16 miles on the grass at Churchill Downs, was ignored at 16-to-1.
When the gates opened, Natural Tendancy flew out to a daylight lead, while Simply Run and House Guest tracked her. Cat Hop was relaxed near the back of the seven-horse field, where she would stay until Razo asked her to begin picking up the pace.
Cat Hop shifted to an inside path entering the far turn, and she continued to make up ground on the leaders. Meanwhile, Couple Whiles had rallied from last place to take the lead and had set sail for the wire. Cat Hop just managed to get up in the last strides to post a neck triumph over Couple Whiles in 1:42.39 over the firm turf course.
Favored Simply Run ran evenly throughout and ended up third, 5 ¼ lengths behind Couple Whiles and a half-length in front of pacesetter Natural Tendancy. Allnightdance, House Guest, and 2005 Tiara winner Inhonorofjohnnie completed the order of finish.
Owner Stanley B. Seelig claimed Cat Hop, a five-year-old Kentucky-bred daughter of Cat Thief out the Silver Ghost mare Bendecida, out of a $25,000 claiming race victory at Fair Grounds on February 10. She was claimed from owner Jacob S. Haddad and trainer Michael Stidham.
Even Scherer was a little surprised by his good fortune to saddle two Claiming Crown winners on the day with his only two starters. He commented, "We won with two substitutes."
Scherer went on to explain that he had originally had two other horses in mind for the Claiming Crown, but instead he ended up coming with Chippewa Court and Cat Hop. He added, "And we ending up winning both of them in a photo."
The Daily Racing Form Rapid Transit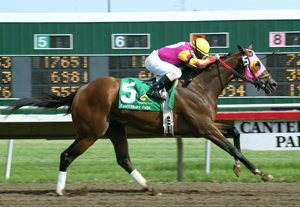 Locally-based Eagle Storm entered the $75,000 Daily Racing Form Claiming Crown Rapid Transit of four consecutive victories at Canterbury Park. Owned by SEJ Stables, Inc., his stablemate Chickster entered the earlier Allied Waste Services Claiming Crown Expres with a similar win streak, only the have it ended in that race.
A five-year-old gelded son of Stormy Atlantic and the Malagra mare My Shy Gal, Eagle Storm had better luck in the Rapid Transit as he led almost the entire trip under jockey Jesse Garcia on his way to a decisive two length victory over longshot Erdiston. Eagle Storm covered the six furlongs in 1:08.90.
Trainer Justin Evans had high praise for Garcia, saying, "He's the best rider in the country."
Erdiston crossed the wire two lengths in front of Tempo Five, who rallied strongly after a rough start. It was another 1 ¾ lengths back to No Term Limit, followed under the wire by favored Forest Attack, who had finished a close second to graded stakes performer First Defence at Churchill Downs on May 3. Fearless Anthony, Ruby's Red Socks, Hard Rockin Robyn, Private Wager, Diamond Account, Sneakin By, John Hennessy, and Pivot Pad completed the order of finish.
Eagle Storm was claimed by SEJ Stables on May 31 at Canterbury for $20,000 from owners Will Carlson and Jerry Pint and trainer Bernell B. Rhone.
According to SEJ's Curt Johnson of Detroit Lakes, Eagle Storm salvaged what could have turned into a disappointing afternoon. He said. "We were hoping we would win at least one of the three, although I thought it would be Chickster. But Eagle Storm can run. You saw that."
The Bremer Bank Emerald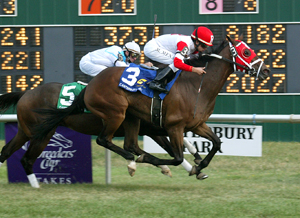 Kenneth and Sarah Ramsey's homebred Self Made Man was sent of as a strong even-money favorite in the $100,000 Bremer Bank Claiming Crown Emerald going 1 1/16 miles on the turf, and there were some pretty clear reasons why. First, the four-year-old gelded son of Catienus and the Red Ransom mare Striking Image had won three of his last four starts competing at Churchill Downs and Keeneland Racecourse. Moreover, his 2008 season had started with a victory in the $50,000 Dust Commander Stakes at Turfway Park and a second in the $50,000 Tejano Run Stakes at the same track, and he had trounced 2007 Blue Grass Stakes (Gr. I) winner Dominican by 5 ¾ lengths at Keeneland on April 18 going 1 1/16 miles. Finally, his trainer, Mike Maker, had saddled no less than three winners of Claiming Crown races last year at Ellis Park.
Though he gave his backers plenty of nervous moments, Self Made Man made good on his odds after battling a game Shipwatch down the lane for a neck victory over that foe in 1:42.28 on a firm turf course.
Winning rider Miguel Mena explained his horse's inability to put the race away earlier, saying, "I knew that horse was coming. But this horse, he needs company.''
Shipwatch, coming off four wins in his last five starts and sent off as second choice, pressed the early pace and took over on the backstretch. He withstood a number of challenges before his duel with Self Made Man.
Canard rallied to finish a non-threatening third, 1 ½ lengths behind Shipwatch and a neck to the good of Onotheregostokyo. Mr Playwright, Chip Hunter, Por Favor, Gallo Del Bar, and Switzerland followed under the wire.
The Jewel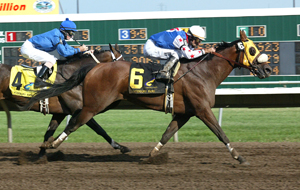 Trainer Scott Lake entered the 2008 Claiming Crown as the event's leading trainer, having won eight previous Claiming Crown races. He saddled three starters in this year's renewal, and his best hope was with $150,000 Claiming Crown Jewel morning line favorite Coyoteshighestcall after off-the-board finishes with Biblical Scholar in the Iron Horse and Quick Sale in the Glass Slipper. Lake was not to ad to his record this year, however, as Coyoyeshighestcall could do no better than third place in the Jewel, behind Won Awesome Dude and R Clear Victory.
Trainer Dalton Nedrick shipped Kuehne Racing's Won Awesome Dude, a five-year-old Ontario-bred son of Awesome Again out of the Maria's Mon mare Lil Punkindo, from Delaware to test his mettle in the Jewel, and the well-traveled horse came through again. He was coming off a second place finish in a $100,000 stakes at Delaware Park on July 12, and he had captured the $50,000 Tony Sanchez Memorial Mile at Manor Downs in Texas earlier in the season. In fact, Won Awesome Dude had finished first or second in five of his last six races.
After stalking the early pace set by Fight On, jockey Casey Lambert asked Won Awesome Dude the question coming out of the final turn in the 1 1/8-mile Jewel, and he answered with a strong rally down the middle of the track. But in the closing stages, they still had to get by a tough customer in R Clear Victory.
R Clear Victory had run in stakes in each of his last six starts, failing to finish in the top three only in his most recent start, the $75,000 Thunder Puddles over a good turf course at Belmont Park. He had taken the $75,000 Kings Point Handicap at Aqueduct by four lengths on April 20. Upholding that stellar recent form on dirt, R Clear Victory battled Won Awesome Dude gamely down the stretch and grudgingly gave way late to finish a length behind that foe.
Won Awesome Dude's final time was 1:49.97, and his $82,500 winner's share increase his lifetime earnings to $192,407.
R Clear Victory crossed the wire 1 ½ lengths in front of Coyoteshighestcall, who was a nose in front of favored Sensational Score. Next under the wire were Catmantoo, Stratostar, Sterling Heat, Fight On, and Canela.
While Scott Lake did not get the victory, he did get kudos from winning owner Ernie Kuehne of Ocala, Florida for his generosity. Kuehne said, "I want to thank him (Scott Lake), too. He let us use his (exercise) rider here this week.''
By the Numbers
The attendance figure of 10,188 was down from the 11,644 that attended the 2006 Claiming Crown, the last held at Canterbury, and almost even with the 10,515 in attendance at the 2005 Claiming Crown. This year's figure was up by more than 3,000, however, from the 6,611 who attended the 2007 Claiming Crown at Ellis Park.
The live crowd wagered $558,645 on the seven Claiming Crown races, down from the $684,731 bet in 2006. Ellis Park's 2007 live Claiming Crown handle was not recorded. In 2005, Canterbury had a live handle of $557,193 on the seven Claiming Crown races.
Total Claiming Crown handle was a robust $2,175,818, up almost 16 percent from the $2,075,167 wagered on the Canterbury Claiming Crown races in 2006, and well ahead of the $1,897,642 bet in 2005. Last year, Ellis Park handled $3,575,778 on the seven Claiming Crown races due primarily to wider distribution of its simulcast signal.
All-sources handle for the 12-race Canterbury card on Saturday was an impressive $2,771,947, up from $2,708,902 in 2006 and $2,321,941 in 2005. Ellis had an all-source handle of $4,906,096 for its Claiming Crown day card last year.
"It was a terrific day of racing before a very enthusiastic crowd," said Randy Sampson, president and general manager of Canterbury Park. "We had a strong out-of-state handle increase over two years ago, which I think is indicative of how the event has grown over time. What was also very gratifying to me was the number of horsemen that told me what a great place Canterbury Park is and how much fun they had coming here. And that praise was just as strong from those who didn't happen to win any races."
"We were very happy to have the Claiming Crown back in Minnesota before such a vibrant, live crowd," said Dan Metzger, president of TOBA and Claiming Crown Chairman. "We were delighted to see the support from horsemen who came from all over the country to be part of this great event, and we salute Canterbury Park for yet another outstanding job as Claiming Crown hosts."
© 2008 The Horsemen's Journal