by Jim Wells
Horsemen, fans and track management alike reacted enthusiastically to the 11th annual Claiming Crown at Canterbury Park on July 25, some referring to it as possibly the best yet. Among the reasons was a thrilling performance by 2008 Iron Horse winner Antrim County, who became the only horse in Claiming Crown history to win two different Claiming Crown races after fighting off a deep stretch challenge in the 2009 Jewel.
Nat Wess is based at Canterbury Park and has been the coordinator for all eleven Claiming Crowns. According to Wess, "I will tell you without question that this was the strongest, most balanced group of horses that have raced on Claiming Crown day."
Even Mother Nature cooperated. Previous Claiming Crowns have been noted for their excellent weather, but were warm and exhausting. The 2009 event was conducted under slightly overcast skies for much of the day. Combined with a light, cool breeze, the seven Claiming Crown races, topped off by the $100,000 Lady Canterbury Stakes, were run in autumnal conditions.
The card included some of the finest riders in the nation. Wess noted, "This was the best group of jockeys – headlined by racing's all-time winner, Russell Baze – that we've had for any Claiming Crown."
In addition to Baze, jockeys competing included Robby Albarado, E.T. Baird, Josue Arce, Jamie Theriot, and Julien Leparoux, as well as Canterbury's top riders – Dean Butler, Paul Nolan, Derek Bell, Jose Ferrer, and Ry Eikleberry.
Theresa and Edward DeNikes of Kent, Washington sent four horses to the event, and with Baze riding for them, they won the Daily Racing Form Glass Slipper and the TVG Rapid Transit. Baze also finished third in the YouBet.com Tiara and in the Bremer Bank Emerald. Theriot was on the winners of the first and last races in the event, the Iron Horse and Jewel.
Canterbury's largest turnout of the season, 11,324, was up 11 percent over the 2008 Claiming Crown. The all-sources handle on the seven Claiming Crown races was up 11.35 percent, also, to $2,422,992.
Management was pleased. "I'm really satisfied with how the day went, business-wise, but also with the quality of the horses, trainers and riders we were able to get here this year," commented Canterbury Park President/CEO Randy Sampson. "From any angle, I think this might be the best yet."
"I've been to racetracks all over the country,"' said trainer Kevin Eikleberry, who trains Cassie D, third in the Glass Slipper. "I haven't seen an entire card any more competitive than this one."
From Bright Hall's front running victory in the opening Iron Horse, under a ride with Swiss watch perfection by Theriot, to Antrim County's gutsy, pulsating victory in the concluding Jewel, fans were treated to sharp, contentious racing throughout the day.
"The race [the Tiara] between Mizzcan'tbewrong and Love to Tell was a humdinger," said Wess.
Kenneth and Sarah Ramsey won their fourth Claiming Crown race with Chasing the Prize in the Pepsi Express. Wess said of the Ramsey's winner, "Their horse made up five lengths in the last eighth of a mile. It was the best finish by any horse in any Claiming Crown race I've seen."
Canterbury Park has hosted nine of the 11 runnings of the Claiming Crown, which is sponsored by the National Horsemen's Benevolent and Protective Association (NHBPA) in conjunction with the Thoroughbred Owners and Breeders Association (TOBA) and the host track. Other than Canterbury, only Philadelphia Park in 2002 and Ellis Park in 2007 have hosted the event.
An announcement on the site next year will not likely be made until the University of Arizona Race Track Industry Program's annual Symposium on Racing in December.
"I've always said it helps make the event more national if it goes to other tracks," Sampson said. "I hope the event continues and unequivocally would like to host it at Canterbury. I just don't know if it's in the best interest for Canterbury every year because it does take a chunk of our purses."
Sampson said the key to the Claiming Crown's future is to continue growing the out-of-state handle. He also says that the purses need to be increased to make the event attractive to horsemen who can run for allowance purses of the same size by simply staying home.
The out-of-state handle was $2,192,345 this year, an 8.62 percent improvement over 2008.
$50,000 Iron Horse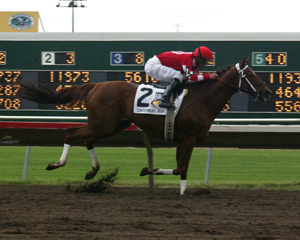 His owners laughed afterward about how they – she, at least – wanted to part with the horse not long ago, but Bright Hal produced nothing but sunny smiles on Gary and Sandy Heflin after the first race of Claiming Crown 2009, the 1 1/16-mile Iron Horse.
Bright Hall, an eight-year-old chestnut gelding by Silver Deputy out of the Alydar mare Alpargate, suffered a crack in his left front ankle during an allowance race at one stage of his career. Doctors inserted a screw to stabilize the ankle and, while they were at it, performed throat surgery at the same time. All of that had Sandy wondering why they bothered to keep the horse, but on July 25 she was laughing about ever having had such a thought as she and Gary, who own Bright Hall as part of Heflin and Driver Racing, GP, rejoiced in the winner's circle.
"I actually wondered why we bothered to keep him," Sandy said, conceding that she felt nothing remotely associated with that thought at the moment. If Bright Hall once made things tough on the Heflins, he made them easy in the Iron Horse with a gate-to-wire, 5 ¼-length victory for trainer Cody Autrey.
Bright Hall broke sharply from the number two hole under Jamie Theriot and took command racing to the first turn. Theriot settled him at the front of nine rivals, where the gelding relaxed through easy fractions of :48.52, 1:13.12, and 1:28.27 on his way to a final time of 1:44.89.
"We took advantage of the good break we got," explained Theriot, "and got some good fractions."
Bright Hall, 3-1, finished solidly in front of 2-1 favorite Calm and Collected. Benson captured third in a three-way photo finish, 7 ¼ lengths behind Calm and Collected. Roboponi, Mr. Grumpy Stripes, Mr. Meso, Mister Merz, Lloron Jotace (Chi), Indian Moonshine, and King Freddie completed the order of finish.
The win was the sixth in his last seven starts for Bright Hall.
Autrey was asked if he was as relaxed watching the race as his horse was running it. "I'm always relaxed,"' he responded. "I knew at the three-eighths pole they weren't going to beat him."
Gary Heflin was relaxed and confident as well as he watched the race unfold. "On the far side, when he has his head bowed and set back, he made a little bit of a move and nobody went with him," Heflin said. "I was pretty sure we were in good shape there. I was feeling even better when he made the final turn."
Bright Hall paid $8.60, $4.00 and $3.40. The win was his 10th from 22 career starts and added $27,500 to previous earnings of $126,300.
As Heflin considered the surgeries that Bright Hall had undergone, he thought winning this race was quite appropriate. "He really is an Iron Horse," he said.
$100,000 Youbet.com Tiara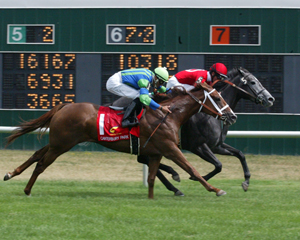 You cannot cut corners when it comes to training good horses, but there is nothing in the book that says you cannot do it during a race. Robby Albarado demonstrated that convincingly and settled a score for trainer Richie Scherer in the process in the YouBet.com Tiara.
"Yeah, I figured Mike Burgess owed me one," Scherer said after Mizzcan'tbewrong won the YouBet.com Tiara, a neck in front of the Burgesstrained Love to Tell, in a stakes record time of 1:41.97 for the mile and 1 1/16 miles on the turf.
Love to Tell had beaten Mizzcan'tbewrong twice previously, but with first-place money of $55,000 on the line and Albarado in the saddle, the four-year-old daughter of Mizzen Mast out of the Chimes Band mare Something Wicked evened the score. Smart handling by Albarado made the difference.
Mizzcan'tbewrong joined the leaders early on from the five hole and then dictated the pace while running easily for five furlongs. She was confronted by favored Love to Tell rounding the far turn, and the two raced nose-to-nose for the final 2 1/2 furlongs. Mizzcan'tbewrong cut the corner sharply on the final turn, shaving off as much as a length or more on her nearest rivals.
"That probably won the race," said Albarado.
Love to Tell came on and stuck her head in front at the top of the lane, but Mizzcan'tbewrong's corner-cutting move put her back in front along the inside. Those two battled that way to the wire. Bartok's Bling was third, 1 3/4 lengths back. R Vicarious Girl, Couple Whiles, and Tour d'Aura followed under the wire.
"She broke really aggressively," said Albarado. "We didn't want her on the lead necessarily, but she's such a fighter that's what she did. Love to Tell is a very good horse, and it turned into a great race."
Richie Scherer frequently sends horses to Canterbury Park from Chicago, where he's headquartered, and they are handled with the same expertise they get in the Windy City by Gary Scherer, his brother. It is a winning combination that frequently pays dividends, as it did in the YouBet.com Tiara for a paycheck of $55,000.
Richie Scherer misjudged the wire from the angle at which he was watching the race and started celebrating before the race was over. "I thought it was over before it was over," Scherer said.
Mizzcan'tbewrong did not let him down and paid $6.20, $2.80, $2.60.
The winner's owners, Clyde Peterson and Tim Fella, race under Last Call Racing Partnership, a name they settled on after closing down their favorite Chicago watering hole on more than one occasion. They made the trip from Chicago for the second time this summer. On June 27, they were in Shakopee to see Mizzcan'tbewrong win the $50,000 HBPA Mile.
"She's as game as they come," said Fella. "She'll go eyeball to eyeball with any horse."
"That filly we beat beat us twice before," added Peterson. "She beat us twice before, but this time we got the lead on her, so she had to catch us."
With that, a member of the winning group handed each of the partners a bottle of Miller Lite. On this particular afternoon, Last Call Racing got its first call a bit earlier than usual.
"We might need to find a cab driver who'll drive us back to Chicago," Peterson said.
$75,000 TVG Rapid Transit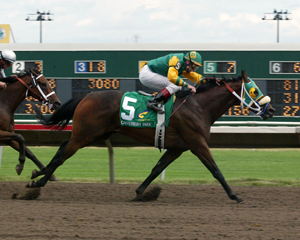 You're My Boy Blue was the first winner on the card for racing's all-time leading winner, Russell Baze, and owner Theresa DeNike was one of the first to enter the winner's circle after the TVG Rapid Transit, beating some trainers, despite being slowed by recent knee surgery.
You're My Boy Blue was one of four horses sent to the Claiming Crown by DeNike and her husband, Edward, but he was a last minute decision, a supplement.
"We had to pay for the pallet on the plane anyway, so we decided to send him," explained DeNike.
She wanted four horses in Shakopee for another reason, as well. She has several family members who live in Stillwater, a St. Paul suburb, and wanted plenty of action for them.
"We wanted to fill the day," she said, "because I'm visiting family. Two years was my last visit here. It was for my father's funeral. It was the last time I saw a lot of these relatives."
DeNike lives in suburban Seattle. She and her husband race many of their horses in Northern California and use Baze frequently, for obvious reasons.
"He rides everything, from the best all the way down," Theresa said. "And it doesn't matter what kind of horse he's on, he can pick it up and carry him over. That last race, Bartok's Bling (owned by the DeNikes) I don't think would have finished third with another rider on him, but he did with Russell. That's what Russell does."
Baze guided You're My Boy Blue from off the pace to win the six-furlong sprint in 1:10.81 for trainer Lloyd Mason, who used assistant Faith Taylor in Shakopee. Baze settled into the second flight behind a torrid early pace set by All Joking Aside, then made a three-wide move around the turn to beat even-money favorite Grand Traverse by 1 1/2 lengths, with Idaho Joe and local rider Derek Bell third at 19-1. All Joking Aside, Max Ahead, Pete's Pride and Right Flanker followed past the post.
When Baze studied the races and his mounts for the Claiming Crown, he did not include the Rapid Transit as one of his best opportunities.
"To tell you the truth, I didn't think he was one of my better chances," Baze said. "I thought he might be tailing off lately, but he came to the party running and stayed in contention early. Then he caught up with them at the eighth pole and ran to the wire."
Taylor couldn't disagree. "He surprised me. He's been kind of lackadaisical," she said. "This makes the trip wonderful. It's like icing on the cake."
The winning time was 1:10.81 after earlier fractions of :22.04, :44.97 and :57.56. You're My Boy Blue, a four-year-old gelded son of Successful Appeal out of the Premiership mare Fight On Hillary, paid $16.20. $6.00 and $3.80.
The DeNikes claimed the winner in February for $16,000, and he had not raced since a second-place finish for a $20,000 claiming tag on March 9 at Golden Gate.
Baze had plenty of background with which to calculate his chances with the winner. He rode You're My Boy Blue on six previous occasions.
DeNike was asked if she had any special instructions for Baze before the race. "Win," she said, chuckling.
$50,000 Pepsi Express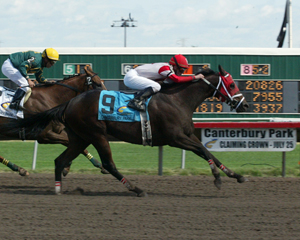 While the pacesetters were baking one another up front in the six furlong Pepsi Express, Chasing the Prize, with Julien Leparoux on board, was patiently settled well back – seven lengths at the half-mile marker – stalking the fast-tiring leaders and waiting to make a move. As the field turned for home, the five-year-old gelded son of Pure Prize out of the Mining mare Chasing Wind was still in fifth place but gearing up to pounce on the horses up front – Who Let the Cat In, Ready's Rocket, I Spy Wolfie and Norjac.
The swift early fractions – :21.97, :45.19 and :57.90 – were beginning to take a noticeable toll on the frontrunners, and Leparoux was eyeing them as his horse moved five deep in the upper stretch. He went to a left-handed whip to elicit a response from Chasing the Prize.
Leparoux worked diligently, trying to coax a move out of his horse, and it came like a sudden burst. The winner fired at the sixteenth pole and caught Norjac (the 4-1 third choice) in the final strides for a three-quarters of a length victory as the slight 2-1 favorite.
Who Let the Cat In finished another 1 ¾ lengths back in third place. He was followed under the wire by Justa Streak, Stormin' Sox, Jacob's Run, Ready's Rocket, I Spy Wolfie, Talk Circuit, and Mojito Man.
According to Leparoux, the strategy was dictated from the break. "They went pretty quick, so we had to wait, and it turned out all right," he said.
The victory was the fifth career Claiming Crown win for trainer Mike Maker, who won three races at Ellis Park in 2007 and one at Canterbury Park in 2008.
Jockey Miguel Mena got Maker all four of his previous Claiming Crown trophies. He rode Iron Horse winner Bargainwiththedevil and Emerald champ One Eyed Joker, both owned by Kenneth and Sarah Ramsey, in the 2007 event at Ellis Park, as well as Jewel winner Miami Sunrise for J & J Investments. Then, in the return to Canterbury Park in 2008, Mena was on Emerald winner Self Made Man, again for the Ramseys.
$75,000 Daily Racing Form Glass Slipper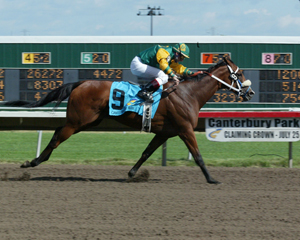 Theresa DeNike, Faith Taylor (on behalf of trainer Lloyd Mason), and Russell Baze made a second trip to the winner's circle after the Frisco Fox took the six furlong Daily Racing Form Glass Slipper for fillies and mares.
Frisco Fox ran down tiring leaders for a three-length victory in front of Thunder and Belle, the best of the rest, and Cassie E, another two lengths back.
The winner paid a healthy $25.20, $9.20, $5.40. Gatorize, Sky N Mighty, Miranda Diane, Margie Marie, Dana's Bell, and Met a Minor completed the order of finish.
"It was all Russell. The man is a genius," DeNike crowed about Baze. "This is fun. I really like Minnesota," said Taylor.
"It's been a while," said Baze, when asked about the last time he rode a $16 and $25 winner on the same card.
Taylor hooked up with Mason in California about 20 years ago and has been galloping his horses and working with him ever since. She was active in another line of work with horses as well. She is a two-time world bareback champion on the women's professional rodeo circuit. At one time, Taylor rode bulls, too. As her skill at bareback riding emerged, she gave up the bulls to avoid risking injury and endangering her ability to compete on the broncos.
After collecting the second of the two Claiming Crown trophies, Taylor was asked which was more exciting – winning the bareback buckles or the TVG Rapid Transit and Daily Racing Form Glass Slipper awards. "This is a very, very close second," she said with a wide grin.
Baze settled the four-year-old daughter of Trippi out of the Dr. Carter mare Sweet Remedy into fourth place, six lengths back, behind Margie Marie, Met a Miner and Dana's Bell at the start. Margie Marie, an Iowa shipper, set hot early fractions of :21.31 and :44.44, and Baze was content to stalk and wait. Margie Marie had won a two-furlong stakes her last time out on July 18 at Prairie Meadows and had little left for the stretch run.
"I didn't want to be on the lead. I didn't think I could go with the speed horses, so I was glad we were on the outside," said Baze. "She relaxed real well for me and switched leads on the turn by herself. Turning for home, I had just enough horse to hold on."
Baze was pleased, although he expressed it a bit differently after seeing the horses in front of him set a swift early pace. "It didn't hurt my feelings one bit," he said.
Frisco Fox was the only horse in the nine-horse field making a move at the leader coming out of the turn and took the lead at midstretch. Frisco Fox was tiring but had enough to withstand late runs from Thunder and Bell and Cassie D, locally stabled and ridden by the father-son team of (trainer) Kevin and (jockey) Ry Eikleberry.
"She came and fired a big one," said Baze. "This horse has talent. She just hasn't been showing it lately."
That was not the case in the Glass Slipper, and it was worth $41,250.
$100,000 Bremer Bank Emerald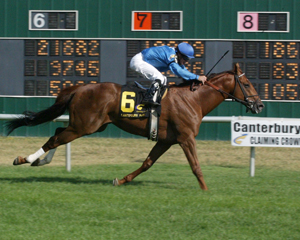 The paddock was packed from one end to the other before the 1 1/16-mile Bremer Bank Emerald on the turf for three-year-olds and older. For good reason. There was a 14-horse field.
After Argentine-bred Gran Estreno, a six-year-old chestnut son of Lucky Roberto out of the Senor Pete mare Great Stampa (Arg), scored a 1 ¼-length victory over Irish-bred Hard Top, winning owner Marty Nixon was asked about his confidence regarding the race.
"I don't get into races I don't think we'll win," Nixon said. His thoughts on the 14-horse field? "I figured there would be 13 other unhappy owners."
Nixon was confident enough to hire two jets and fly 16 people from Chicago to the Twin Cities for Claiming Crown XI.
E.T. Baird, the winner's regular rider, guided Gran Estreno (Arg) (which means grand debut in English) in the second flight just behind pacesetting Divine Master and Trying Brian. Baird moved his mount three wide and joined the leaders on the far turn and, with a powerful move, took charge at the head of the lane. He finished 1 1/4 lengths in front of Hard Top (Ire), who had a head in front of Stormy Surge. They were followed under the wire by Drivingmaxandmitzi, Spicy Dubai, Trying Brian, Pursue a Dream, Alpha Capo, T Harry, Gun Salute, Luckman, Divine Master, and Spider Power (Ire).
Gran Estreno (Arg) paid $9.20, $4.60 and $3.60 as the 7-2 favorite, finishing in 1:41.33.
The win was the fifth straight for Gran Estreno (Arg) and fourth since he was claimed by trainer Michael Stidham on May 1 for $20,000 at Arlington Park, about a block from Nixon's home. Baird was on the winner for the fourth straight time and considered that a benefit in the Emerald.
"Today it had a big benefit," Baird commented. "I know this horse, and I know what I have to do to avoid getting him in a bad spot."
Nixon owns parts of seven horses but is the sole owner of Gran Estreno (Arg) in his Feel The Thunder Stable. He owns a plumbing company with about 200 employees in the Chicago area. His stable name is part of a mantra his work crews sometimes proclaim before starting a job.
"Whenever we get on a construction site, we say they are going to 'feel our thunder,'" Nixon explained.
Nixon was reading the Daily Racing Form the night before the Arlington meet opened and called Stidham. "Hey," he said, "there's a horse here we ought to take a look at."
He was celebrating that decision moments after the Emerald.
When were the jets headed back to Chicago?
"Well tonight, but that depends on what happens when we get upstairs with (Claiming Crown coordinator) Nat (Wess)," Nixon said.
The day clearly had gone well for Nixon and 16 friends, with one exception.
"My sister Jolene bailed on me," Nixon said. "She sent a text message just before we left and said she wasn't coming with us."
The look on Nixon's face said it all. Sis missed out on a grand time.
$150,000 Jewel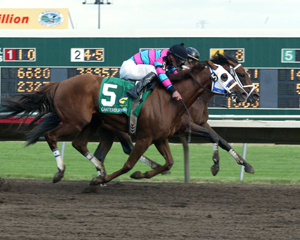 Track announcer Paul Allen described the intensity of this race perfectly – at its conclusion. "It's a tight photo. Very, very tight."
When the results were posted, Antrim County, the winner of the Iron Horse last year, was the winner of the biggest race this year, the $150,000 Jewel, by a neck over Fancy Runner after a scorching stretch run in which the lead changed twice.
Antrim County, named after the day's sixth race as the National HBPA's Claiming Horse of the Year for 2008, had just put in a bid for the same award for 2009.
Fancy Runner made his move along the rail and got his head in front inside the sixteenth pole. Antrim County re-fired and surged past the wire first.
Glamour Guy finished 4 ½ lengths behind the top pair in third, 1 ½ lengths in front of Furthest Land. Repenting and Forest Warfare trailed past the wire.
"This horse is a fighter. He won it on sheer guts and determination," said winning trainer Bret Calhoun. "That other horse came to him, and he just dug in again."
Rider and horse timed the move perfectly. "He fired at the top of the lane and then relaxed. He just dug in again when he saw that other horse," said Theriot.
The winner paid $10.80, $4.60 and $3.80 as third choice and finished the mile-and-one-eighth in 1:50.77.
Owner Carl Moore of Fort Worth, Texas, was delighted with the win but had mixed feelings nonetheless. Fancy Runner is trained by Scott Lake, the Claiming Crown's leading trainer overall, who was shut out again this year. Moore had won the 2006 Iron Horse with Distinct Vision, who Lake had trained for him.
"I hate that part of it," said Moore. "I like Scott, and he didn't have a good day."
But Moore and Antrim County did. The six-year-old gelded son of Giant's Causeway and the Fappiano mare Bright Feather added $82,500 to his previous earnings of $334,130 and has long since repaid the $50,000 claiming price Moore gave for him shortly after last year's Claiming Crown.
There was one more connection to Claiming Crown history with Antrim County. He was owned last year by Boys Haven Equine, the feel-good story of the 2008 event. Boys Haven is a Louisville, Kentucky, organization that helps abused, homeless and struggling youngsters. That equine program claimed Antrim County for $7,500 from Claiming Crown regulars Kenneth and Sarah Ramsey and trainer Mike Maker.
Quarter Horses Make First Appearance on Claiming Crown Card in Fort Dodge Starter Allowance Challenge
Caroline Sanders watched the $18,450 Fort Dodge Starter Allowance Challenge from Canterbury Park on television at the ranch in Henryetta, Oklahoma. Her daughter, Tara, and her mother, Sue, watched with her.
Caroline's brother, Sammy Dunlap, watched the race on television at his place in Amarillo, Texas. Gregg Sanders, Caroline's husband, was in Minnesota to saddle Eyesa High, a four-year-old gelding owned by Caroline and Sammy.
They watched as Eyesa High, a son of Eyesa Special, broke sharply under Jerry Winters and scored a one-length victory over Nicketti, covering 350 yards in :17.784.
Caroline breathed a sigh of relief. She was at Remington Park on May 16, when Eyesa High came up a nose short in the $33,800 Challenge final to Mister Jess Legacy.
"That other Challenge, he got beat a whisker," Carolina recalled. "The people who won sat next to us in the Turf Club, and I had to look at that trophy the rest of the afternoon."
When Eyesa High came through on Claiming Crown day at Canterbury, Caroline's reaction was straightforward. "Thank you, God," she said.
She also gave Gregg strict orders. She wanted the trophy safely tucked in the trailer stall next to the horse during the drive home from Minnesota. There is another special element to the story. The horse is the first owned by Dunlap.
"It's a nice way for him to come into the horse business," Caroline said.
Gregg Sanders has been training on his own since 1987. He has a 500-yard racetrack and indoor round pen on the ranch he likes to describe as centrally located. "It's 100 miles to Remington Park, 50 miles to Fair Meadows, 74 miles to Will Rogers, 63 miles to Blue Ribbon Downs, and 200 miles to Lone Star Park," he said.
Sanders has used Winters before and was glad to get him for the challenge in Minnesota.
"He's a go-to guy," Sanders said. "It was nice to make a phone call and be able to get him. He's a busy, smart rider with experience."
Sanders watched as his horse moved a leg under the gate an instant before the start. Winters did not panic. "Instead of taking a chance and moving him around, he let him stand like that," Sanders added. "So he was still able to get a real good break." More importantly, he noted, "Jerry took hold of him. He had a ton of horse and knew they couldn't catch him. A lot of other guys whip a horse from gate to wire. A class rider like Jerry knows there are other races down the road."
The Fort Dodge Starter Allowance Challenge marked the first time a race from the American Quarter Horse Association (AQHA)'s Bank of America Racing Challenge – or any Quarter Horse race – has been included on the Claiming Crown Day card at Canterbury. The Bank of America Quarter Horse Racing Challenge is Quarter Horse racing's richest program – the championship series designed for "America's Fastest Athlete". A total of 59 races take place in 11 regions across the United States, Canada, Mexico, and South America throughout the year. American Quarter Horses compete in one of six different types of races, depending on their age and ability. The series culminates with a title night featuring a total of six championship events and six undercard races where Bank of America Challenge enrolled horses are preferred for entry.
© 2009 The Horsemen's Journal