by Richard E. Glover, Jr.
Change is rarely easy. When it comes to staging a major racing event, it is doubly true. This year's edition of the Claiming Crown was one of numerous changes, including a new venue and a new place on the racing calendar. Previously a summer fixture, ten of the prior 12 renewals of the Claiming Crown had been conducted at Canterbury Park in Shakopee, Minnesota. It was held at Philadelphia Park (now Parx Racing) in 2002 and at Ellis Park in 2007. Claiming Crown XIII took place on a beautiful, cloudy but warm day on December 3 at Fair Grounds Race Course & Slots in New Orleans, Louisiana. The changes created new challenges for the Claiming Crown – some expected and others less so – but Claiming Crown Day itself was again a thoroughly enjoyable day of good, competitive races showcasing the best of the blue collar horses and their owners and trainers who make up the backbone of the Thoroughbred racing industry.
Entries for the Claiming Crown were down this year, with only 39 horses entered in five races. The originally slated $50,000 Rapid Transit Stakes was not carded because too few horses were entered – something that had never before happened to a Claiming Crown race. Conversely, some of the horses that were entered were among the strongest ever to run in the Claiming Crown – including two horses coming straight off starts in Breeders' Cup races. So strong was the original list of nominees that it may have scared off some potential entries.
In the end, Claiming Crown XIII consisted of five races worth $425,000 in purses. In order to be eligible, a horse must have raced for a claiming tag of $35,000 or less (down to $7,500 or less, depending on the race) since January 1, 2010.
The Claiming Crown is a day for the connections of claiming horses to shine in the spotlight, and they definitely did at Fair Grounds on December 3. There were familiar faces, longshot winners, up-and-comers, and plenty of impressive performances.
$150,000 Jewel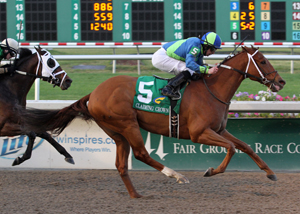 Maggi Moss, who has become a staple at or near the top of the national year-end owner's standings over the last several years, celebrated her birthday on Thursday, December 1. With the help of trainer Steve Asmussen and jockey Shane Sellers, Moss got a belated birthday present to remember in the form of a triumph in the $150,000 Claiming Crown Jewel by her It Happened Again.
Moss claimed It Happened Again from Peter Redekop B. C., Ltd. for $20,000 at Woodbine Racecourse on October 9, 2010. The five-year-old gelded son of Proud Citizen and the Quiet American mare Quiet Lucky really got rolling at Oaklawn Park this spring, racing to three consecutive victories that culminated in a Razorback Handicap (Gr. III) triumph on March 12. After three disappointing subsequent starts against tough company, It Happened Again got what turned out to be an appreciated approximately five month break from competition.
Fresh and training forwardly, It Happened Again gave Asmussen a signal that had the trainer confident heading into the Jewel. According to Asmussen, "He put in a fabulous three-quarters work at Churchill [a six furlong breeze in 1:13 2/5 on November 14]."
Moss concurred, saying, "He was just doing so well."
Going into the Jewel, it looked like trainer Mike Maker just about had the race surrounded. He saddled three of the race's six starters – a favored coupled entry of Isthmus and Al Muhtasib and third choice Harmonizer. Maker was seeking his eighth Claiming Crown race victory, which would have put him in a tie with all-time leading Claiming Crown trainer Scott Lake.
Maker's charges could only finish second, third, and fourth as Asmussen and It Happened Again denied him a record-tying victory. Meanwhile, Asmussen moved into third place on the all-time Claiming Crown trainer list with his fourth Claiming Crown victory. His previous scores had come in the 2003 Emerald with Image, the 2005 Iron Horse with My Extolled Honor, and the 2007 Express with Golden Hare.
In the Jewel, Isthmus grabbed a clear early lead over Rein King and Tutti Buona Gente, setting fractions of :23.97, :47.33 and 1:11.82. Sellers had It Happened Again settled back in fourth place early, and he dropped him to the inside with three furlongs to run and asked the gelding for his best. The result was a strong rally that carried him 1¼ lengths clear of a stubborn Isthmus at the wire, which he reached in 1:51.56 for the 1 1/8 miles.
According to Sellers, "It was a typical Steve Asmussen ride. That's the kind he wants – stay inside and let 'em go when they want to. For a moment, I thought I waited too long, but when I asked him, he gave me what I wanted."
Rosie Napravnik rode runner-up Isthmus, and she was proud of his valiant effort. According to Napravnik, "He was a fighter. He was pretty sharp around the first turn, wanting to go on and be very eager, but he held on and ran great. He was really trying down the lane."
Al Muhtasib rallied mildly to finish third, 3 ¾ lengths behind Isthmus. It was another half-length back to Harmonizer in fourth place. Rein King and Tutti Buona Gente trailed past the wire.
The Jewel was It Happened Again's first time to finish in the money going 1 1/8 miles in three lifetime tries. The victory earned the gelding $82,500 to boost his lifetime bankroll to $429,078 in 27 starts. Notably, It Happened Again finished tenth to Friesen Fire in the 2009 Risen Star Stakes (Gr. III), also at Fair Grounds.
Asmussen said It Happened Again would be pointed at the Fifth Season Handicap at Oaklawn Park on January 13.
The Jewel was restricted to three-year-olds and up that had started for a claiming price of $35,000 or less since January 1, 2010.
$100,000 Emerald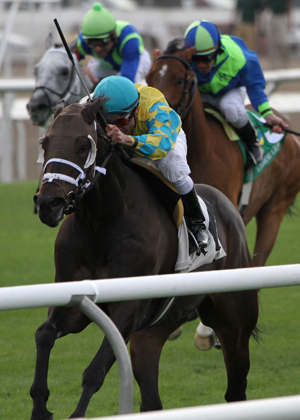 On paper, Compliance Officer and Baryshnikov were clearly the class of the $100,000 Claiming Crown Emerald for three-year-olds and upward going 1 1/16 miles on the grass. The former had reeled off six consecutive victories (including three restricted New York-bred stakes worth $100,000 or more apiece) before a disappointing eleventh place finish in the Breeders' Cup Mile (Gr. IT), beaten 12 ½ lengths. Meanwhile, Baryishnikov was straight out of a disappointing seventh place in the Breeders' Cup Marathon (Gr. II), beaten 27 lengths, but earlier in the year had notched runner-up finishes in the Dixie Stakes (Gr. IIT) and Firecracker Handicap (Gr. IIT) and thirds in the Oceanport Handicap (Gr. IIIT) and Bernard Baruch Handicap (Gr. IIT).
On the track, Compliance Officer ($0.80-to-1) and Baryshinikov ($2.30-to-1) performed as expected to take the first two spots in the Emerald. LaMarca Stable's Compliance Officer rallied to hit the wire 2 ¾ lengths in front of Baryshinikov in 1:44.51 over a firm turf course.
Thabazimbi led the Emerald field through early fractions of :24.44, :49.50, and 1:13.90 while Baryshnikov stalked in second place. Jockey Alex Solis had Compliance Officer rating nicely in fourth place, and he swung the five-year-old gelded son of Officer and the Dynaformer mare Purple Hills wide around the turn for clear sailing. Once clear, Compliance Officer powered to the lead in early stretch and steadily drew away from Baryshinikov.
Quick Delivery ran an even race in third pretty much all the way around and finished in that position, 2 ½ lengths behind Baryshinikov and 1 ¾ lengths to the good of Monzante. Avenstoke, Thabazimbi, and Ducduc completed the order of finish.
Trainer Bruce Brown revealed that the Claiming Crown had not originally been the plan for Compliance Officer after the Breeders' Cup, saying, "We were planning on just turning him out after the Breeders' Cup, but he just bounced out of that so well."
Brown also felt like Compliance Officer did not get a chance to run his best race in the Breeders' Cup Mile (Gr. IT), so he was not surprised the gelding bounced back with a win in the Emerald. He explained, "The post really hurt him in the Breeders' Cup. When he's tucked behind horses, he relaxes. In the Breeders' Cup, he got hung wide. Today, he was able to tuck in, and that's the secret."
Solis concurred, saying, "He is really very easy to ride. He tucked in behind horses, then I just had to be patient. I got him out at the three-eighths pole, and he did his thing."
Compliance Officer earned $55,000 for his Emerald victory, increasing his lifetime earnings to $464,566 in 24 starts. He was claimed for $25,000 by La Marca Stable from Klaravich Stable, Inc. and William H. Lawrence on May 14 at Belmont Park.
Owner Thomas LaMarca noted that Compliance Officer has been a pleasant surprise. He said, "I originally claimed him as a sprinter. Then we began to stretch him out. Bruce has done a fabulous job, and Alex fits him to a 'T.' It's been like a fantasyland."
Notably, Compliance Officer was bred by Kenneth and Sarah Ramsey, who are tied with Richard Englander as the all-time leading Claiming Crown owners with four wins. Their thee-year-old colt Live in Joy was scratched out of the Emerald by trainer Wayne Catalano.
The Emerald was restricted to three-year-olds and up that had started for a claiming price of $25,000 or less since January 1, 2010.
$75,000 Glass Slipper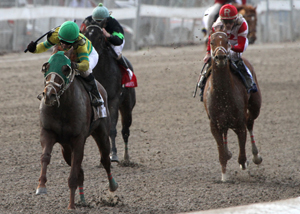 The females took center stage in the $75,000 Claiming Crown Glass Slipper for fillies and mares, three and up, going six furlongs, and the smart bettors had their money down on the only female horse-jockey pair in the race – Rattlin Gyspy and jockey Rosie Napravnik. Sent off at $6.40-to-1, the pair rolled to a three-length victory over D'cats Meow in 1:11.45.
Rattlin Gyspy is owned by Steven Howell, Ron Pauley, and Stephen Reiker, and she is trained by perennial top Fairmount Park trainer and Illinois HBPA President John Wainwright.
Shesadozer, part of the favored three-horse entry of trainer Joe Woodard, was fastest out of the gate in the Glass Slipper. Wild About Marie and Right to Rule were also forwardly placed early, while Napravnik let Rattlin Gyspy settle near the back of the nine-horse field.
Napravnik called on Rattlin Gyspy on the turn, and the four-year-old daughter of Quest and the Menifee mare Louisa started gaining steadily as the pair swung wide. Set down for the drive down the lane, Rattlin Gyspy reeled in all of her foes and pulled clear for a facile win.
According to Napravnik, "I put her where she likes to be, and she came flying home."
Right to Rule held on to take third place, 2 ¾ lengths behind D'cats Meow and a half-length in front of Sweettouch. Scilly was next past the wire, followed by Networking, Wild About Marie, Shesadozer, and Costly.
Rattlin Gyspy entered the Glass Slipper off a close fourth place finish in the $50,000 Flashy Lady at Remington Park on October 15. She had finished worse than fourth only once in her ten previous 2011 starts, which included three wins and a fast-closing second in the $75,000 West Virginia Secretary of State Handicap at Mountaineer Park on August 11. The $41,250 winner's check for the Glass Slipper pushed Rattlin Gyspy's lifetime earnings in 24 starts to $163,765.
Co-owner Stephen Reiker sounded like the widely traveled filly might have earned a break when he commented, "We really don't have any plans right now for her next start. She's run at nine different tracks over the last 12 months, and we're just going to enjoy the moment."
The Glass Slipper was the first Claiming Crown win for all of Rattlin Gyspy's connections.
The Glass Slipper was restricted to fillies and mares that had started for a claiming price of $16,000 or less since January 1, 2010.
$50,000 Express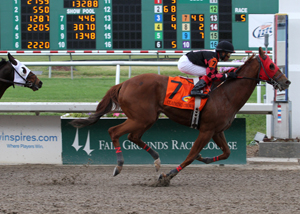 Owner/trainer Jackie W. Thacker pulled off the second biggest upset in the 13-year history of the Claiming Crown when his Atthebuzzer crossed the wire 1 ½ lengths in front of Bombast in the $50,000 Claiming Crown Express to pay $95.40 for a $2.00 win bet. Only the $100.60 payoff on Adore You in the 2007 Claiming Crown Glass Slipper has been higher.
"I guess he didn't know he wasn't supposed to win," joked Thacker after the race.
Atthebuzzer, a five-year-old gelded son of Even the Score and the Bold Ruckus mare Francesca's Ruckus, was dismissed by the betting public despite top three finishes in each of his last five starts, perhaps because the public perceived he had been facing weak competition in those low level claiming and allowance races at Delta Downs and Evangeline Downs. Atthebuzzer's performance in his last race mimicked his name – a head victory in the closing stride in a $5,000 allowance at Delta on November 18.
Favored in the Express was Sherlock, who had reeled off four consecutive wins for trainer Cody Autrey before being claimed in August. Autrey claimed the gelding back out of a third place finish in his next start in September and trained him up to the Express.
When the gates opened for the Express, Bombast and Gentlemansapproval battled for the lead through hot splits of :21.91 and :45.41, and that battle took a toll. Gentlemansapproval began to drop out of it, while Bombast forged to a clear lead in upper stretch but was starting to tire.
Up-and-coming young jockey C. J. McMahon smartly tracked the dueling leaders on Atthebuzzer, and when he called on his mount in the stretch, the gelding was able to pass a tiring Bombast and edge clear to a decisive victory in 1:10.28 for six furlongs.
Bombast held onto second place by three-quarters of a length over the mild rally of Plasma Beam. It was another 3 1 /4 lengths back to Sherlock in fourth place. He was trailed past the post by Sure Success, Tide Rising, Expect a Flyer, and Gentlemansapproval. Allworkandnoplay was scratched by the veterinarian.
The win was the first in a Claiming Crown race for both Thacker and McMahon. The 17-year-old jockey commented, "He left good. I kept him in good position, and then he finished up real well for me."
Atthebuzzer earned $27,500 from the Express to increase his lifetime earnings to $123,387 in 39 starts.
The Express was restricted to three-year-olds and upward that had started for a claiming price of $7,500 or less since January 1, 2010.
$50,000 Iron Horse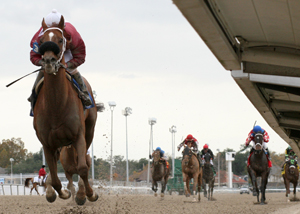 Coming off four consecutive second place finishes on the heels of two wins, Majhood went to post as the slight $2.20-to-1 favorite over Pedrolino at $2.50-to-1 in the $50,000 Claiming Crown Iron Horse for three-year-olds and upward going 1 1/16 miles on the dirt.
When the real running started, though, it was all Pedrolino, who powered to a 7 ¾-length victory over Severe Weather in 1:45.13 despite being eased up on late by jockey Robby Albarado.
As the seven-horse field broke from the gate in the Iron Horse, Built to Precision drove to the lead over Lambeau and Indian Weaver. Meanwhile, Majhood was off a bit slow, and Albarado was content to let Pedrolino track the leaders in fourth place through fractions of :23.83 and :47.39.
Pedrolino rallied around the leaders on the far turn and pulled away from the field coming down the lane to post an easy win. Severe Weather rallied mildly from fifth place to take second place, five lengths in front of a tiring Built to Precision. It was another 3 ½ lengths back to Baby Afleet, who was followed past the wire by Majhood, Lambeau, and Indian Weaver.
It was the first Claiming Crown victory for both owner John Wade and trainer Doug Matthews. According to Matthews, "I've been running horses in the Claiming Crown for three or four years, but this is the first win. It feels good."
Pedrolino, who was claimed for $20,000 on June 18 at Parx Racing, was coming into the Iron Horse as a consistent but headstrong performer for Wade and Matthews. In four starts for the pair (all on synthetic surfaces), Pedrolino had one win, two seconds, and a third, with the latter being in a $50,000 claiming race at Keeneland on October 26.
Matthews made sure Albarado knew ahead of time that the key to Pedrolino was getting the five-year-old gelded son of Distorted Humor and the Dahar mare Bold Burst relax, and it paid off. Albarado recalled, "Doug said to keep him quiet but at the same time keep him forward, and it worked out well."
It was Albarado's second Claiming Crown triumph. He rode Mizzcan'tbewrong to take the 2009 Claiming Crown Tiara.
Pedrolino earned $27,500 for his Iron Horse victory, increasing his career bankroll to $147,038 in 18 starts.
The Iron Horse was restricted to horses that had started for a claiming price of $7,500 or less since January 1, 2010.
Taking Stock, Moving Forward
Attendance and handle figures were not available from Fair Grounds Race Course & Slots for Claiming Crown Day due to a policy by its parent company, Churchill Downs, Inc., not to release such information to the media. Thus, it is impossible to compare those aspects of the 2011 Claiming Crown with previous renewals of the event.
Officials at Fair Grounds seemed please after hosting the Claiming Crown for the first time. According to the track's communications & pari-mutuel marketing manager, James J. Mulvihill, "Our first Claiming Crown at Fair Grounds went off without a hitch, and we received very positive feedback from the out-of-town horsemen and owners in attendance. Hopefully, we showed once again that no city hosts a big event better than New Orleans, and no track has a better racing surface or offers more hospitality than Fair Grounds."
The owners, trainers, fans, and those involved with the planning of the 2011 Claiming Crown likewise seemed pleased with the wonderful job Fair Grounds did in hosting the event and making the participating horsemen and women feel welcome.
As it does every year at the University of Arizona's Symposium on Racing & Gaming, the Claiming Crown planning committee was set to meet the week after the event to evaluate the success of this year's renewal, weigh the effects of changing the event's place on the racing calendar and what is best for the future, and consider possible host tracks for 2012. They will also be considering any additional changes that might be made to the event to increase participation and strengthen it for the future.
The Claiming Crown is put on every year as a partnership between the National HBPA and the Thoroughbred Owners and Breeders' Association (TOBA) with the generous help of the local horsemen's association (the Louisiana HBPA this year) and host track.
All those involved with this year's Claiming Crown would like to thank B2B Casuals (www.B2Bcasuals.com) of Quinlan, Texas for its generosity in donating the beautiful Claiming Crown saddle towels and outrider towels used during the event.
© 2011 The Horsemen's Journal