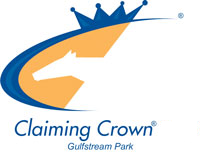 Already the winningest trainer in event history, Mike Maker can add to his record when he sends out six horses in four of the nine Claiming Crown races Saturday on Opening Day of the Championship Meet.
Maker, 49, extended his record to 16 Claiming Crown victories last December when Special Ops captured the $125,000 Emerald. The 1 1/16-mile turf event has been his most successful race with seven wins, and he has both Souperfast and millionaire Slim Shadey entered this year.
This marks the seventh straight year in South Florida and 20th overall for the Claiming Crown, created in 1999 to honor the blue-collar horses that are the foundation of the racing industry nationwide. Total handle for the Claiming Crown has surpassed $10 million each of the past four years, topped by a record $11.925 million in 2017.
"I haven't really thought about that, honestly," Maker said. "It's nice to be No. 1 on any kind of list, I guess. It was nothing that I really set out to be a goal. It just kind of worked out that way."
Fourteen of Maker's wins have been for Ken and Sarah Ramsey, who lead all owners with 15 Claiming Crown victories. Together, they won four races in 2017 and Maker also enjoyed a three-win day in his Claiming Crown debut in 2007.
In all, Maker has had at least one winner in nine of the last 11 years including three in the day's richest race, the $200,000 Jewel, the most recent coming with Parent's Honor in 2012.
"It's always a fun day," Maker said. "It's a great event for these types of horses and a chance for them to be recognized. It's a big day for the staff and the owners and everyone to really enjoy."
Maker will send out Race Me Home and Bad Student in the 1 1/8-mile Jewel, the last of 11 races Saturday that begin with an 11:50 a.m. post time. He also entered 2017 runner-up Peru in the $125,000 Tiara and Maniacal in the $110,000 Canterbury.
"I grew up in Detroit so that's the way I started out, with claiming horses," Maker said. "It's nice to see that the program that you present to the horses makes them do well or different ideas you have for the horses helps make them successful, and you can't help but enjoy that."
Driven by Thunder Makes Return for Pletcher in $125,000 Emerald
Though he has been claimed away twice within the past year, Repole Stable's Driven by Thunder has enjoyed his longest association – and most success – in the barn of Todd Pletcher. Together they'll look to recapture that magic in Saturday's Claiming Crown Emerald.
Driven by Thunder drew Post 5 in an overflow field of 16 that includes two also-eligibles. Jockey Luis Saez, who set a Championship Meet record with 137 victories in earning his second straight riding title, will be aboard.
Pletcher, the elite Championship Meet's leading trainer an unprecedented 15 straight years as well as North America's all-time leader with more than $368 million in purse earnings, has never won a Claiming Crown race.
Driven by Thunder is a gelded 4-year-old son of Overdriven that was purchased by Mike Repole for $65,000 as a 2-year-old in training in April 2016. He made his first seven starts for Pletcher, with a record of 2-1-2 including a maiden victory April 2, 2017 at Gulfstream.
Overall, Driven by Thunder has won all seven of his races from 13 starts with Pletcher and is four-for-five over the Gulfstream Park turf course, which underwent a complete $1 million renovation for the winter.
"He's a cool horse," Pletcher said. "He's one that we've always liked and we've had some success with, and he's a Florida-bred. We felt like claiming him back and bringing him to Gulfstream hopefully for another productive winter was the right move. The fact that he's eligible to the Emerald is a good starting point."
Driven by Thunder was claimed away for $25,000 in September 2017 and made three starts for trainer Ray Handal before Pletcher got him back for the same price two months later. He had three wins at last winter's Championship Meet and five in six races before we was claimed for $25,000 out of an August win at Saratoga.
Pletcher and Repole haltered him for $32,000 out of his next start Sept. 16 and gave him plenty of time before his return with seven works, the last four coming at the Palm Beach Downs training facility.
"We kind of played it by ear at first and then we just felt like he needed a little extra time to get ready," Pletcher said. "He's run well fresh in the past and with this race, knowing that it was going to be here, we felt like we'd take a shot at it with a fresh horse."
Driven by Thunder has won at distances from 6 ½ furlongs to 1 1/8 miles, on dirt and turf. He has prior stakes experience in the 1 1/16-mile Soldier's Dancer June 9 at Gulfstream, where he set the pace before tiring to fifth behind Emerald rival Salute the Colonel.
"He's a fun horse. He's been a consistent horse. He's versatile, he runs turf or dirt, so there's a lot of options with him," Pletcher said. "He runs no matter where we've put him and he's versatile in distances, but the one thing we have found is he tends to run his better races when he's on the lead. Depending on the pace scenario, most likely we'll try to have a forward position with him."